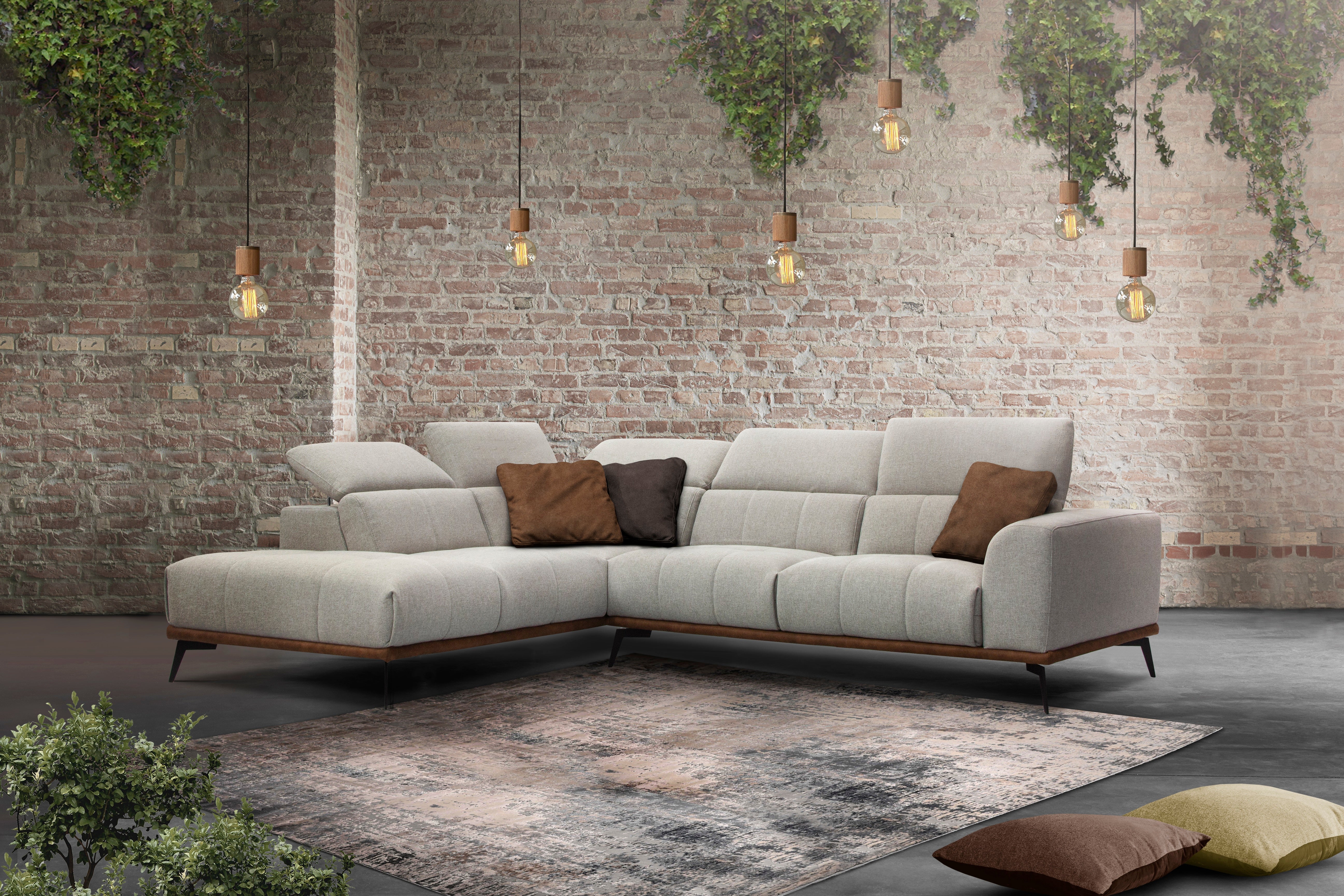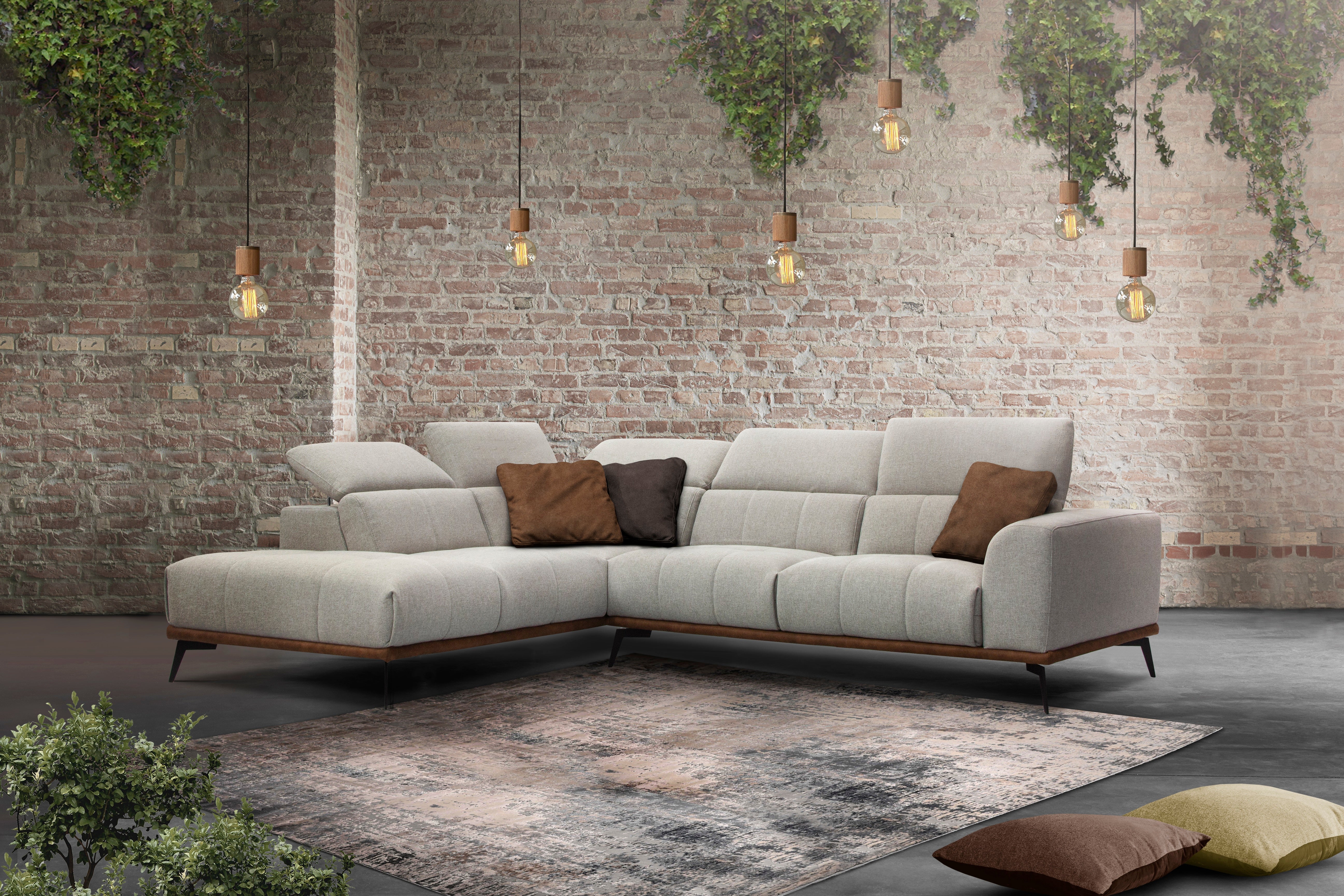 This is the perfect way to complement any décor; this contemporary sectional sofa will provide style, comfort, and durability. By purchasing this stylish sofa, you will ensure a reliable, functional, and attractive piece of furniture for many years. This sofa will make your rest more effective and enjoyable. It offers soft, comfortable seating made of fabric upholstery and durable construction. 
Cutting-edge comfort:
Seat Construction
High resilience firm polyurethane foam 35 kg/m3 +
Medium firm polyurethane foam 25 kg/m3 +
Thick 150 g/m2 wadding

Lean back in Luxury:
Backrest: Polyurethane foam N 25 kg/m3 + 250 g/m2 wadding

Stability Suspension: 
Suspension is constructed with springs for a stable and contouring seating experience

Frame Construction:
Durable wooden frame with fiberboard

Contemporary Design:
Strong metal legs

Dimensions (may vary +/- 0.5 inch)
Chaise: Width 113 cms, Depth 226 cms, Height 74 cms
2 Seater: Width 175 cms, Depth 111 cms, Height 74 cms
Seat height: 45 cm
Base height: 74 cm
Seat depth: 57 cm
Armrest width : 27 cm

Good to know:
Images shown are true representations of the product, however, slight color variations are possible due to natural and artificial lighting sources.
--
C'est le moyen idéal pour compléter n'importe quel décor ; ce canapé sectionnel contemporain offrira style, confort et durabilité. En achetant ce canapé élégant, vous vous assurerez un meuble fiable, fonctionnel et attrayant pendant de nombreuses années. Ce canapé rendra votre repos plus efficace et agréable. Il offre des sièges doux et confortables faits d'un rembourrage en tissu et d'une construction durable.

Confort de pointe :
Construction du siège
Mousse polyuréthane ferme haute résilience 35 kg/m3 +
Mousse polyuréthane mi-ferme 25 kg/m3 +
Ouate épaisse 150 g/m2

Détendez-vous dans le luxe :
Dossier : Mousse polyuréthane N 25 kg/m3 + ouate 250 g/m2

Suspension de stabilité :
La suspension est construite avec des ressorts pour une expérience d'assise stable et profilée

Structure du cadre :
Cadre en bois durable avec panneaux de fibres

Design contemporain:
Pieds en métal solides

Dimensions (peuvent varier de +/- 0,5 pouce)
Méridienne : Largeur 113 cm, Profondeur 226 cm, Hauteur 74 cm
2 places : Largeur 175 cm, Profondeur 111 cm, Hauteur 74 cm

Hauteur d'assise : 45 cm
Hauteur socle : 74 cm
Profondeur d'assise : 57 cm
Largeur accoudoir : 27 cm

Bon à savoir:
Les images présentées sont des représentations fidèles du produit, cependant, de légères variations de couleur sont possibles en raison des sources d'éclairage naturelles et artificielles.