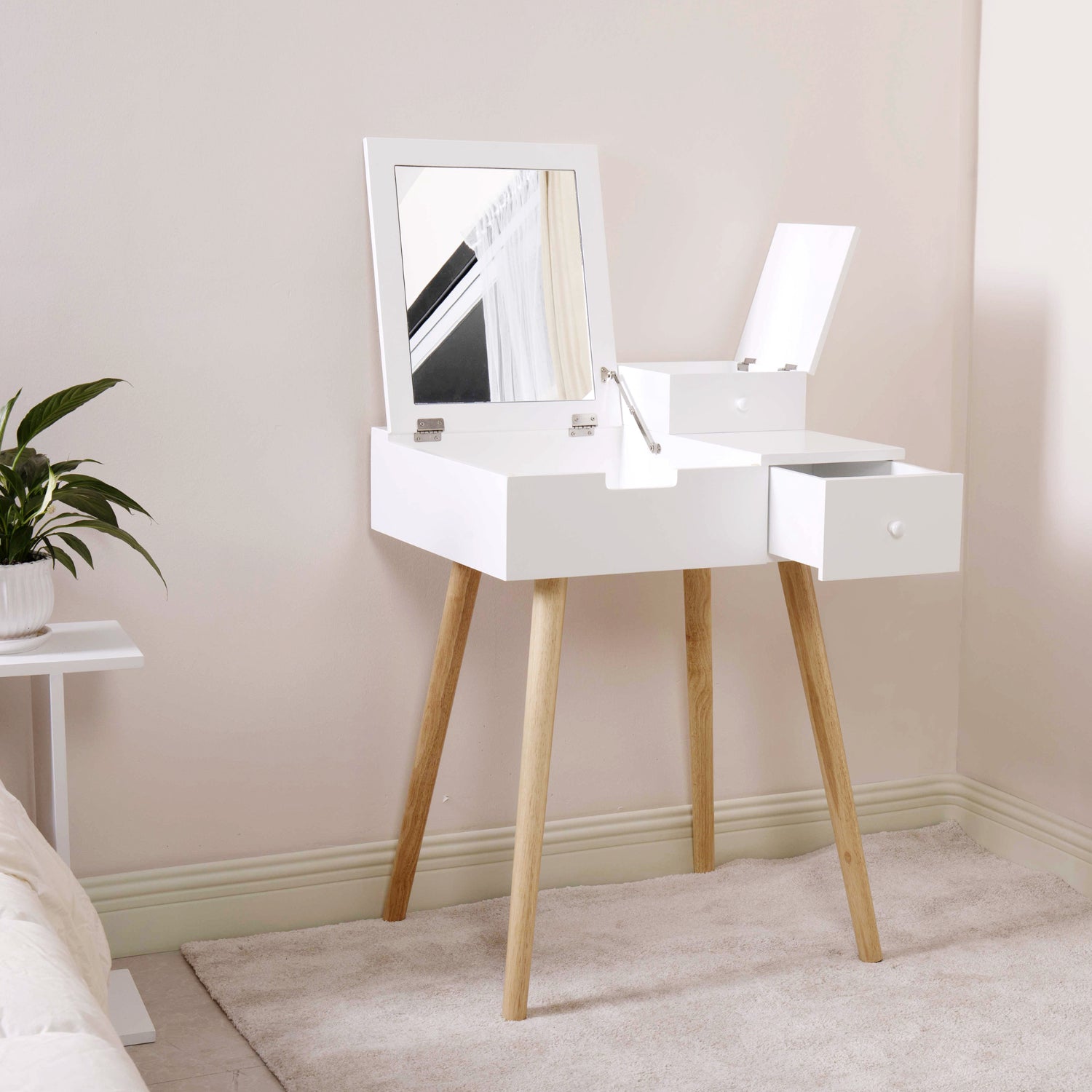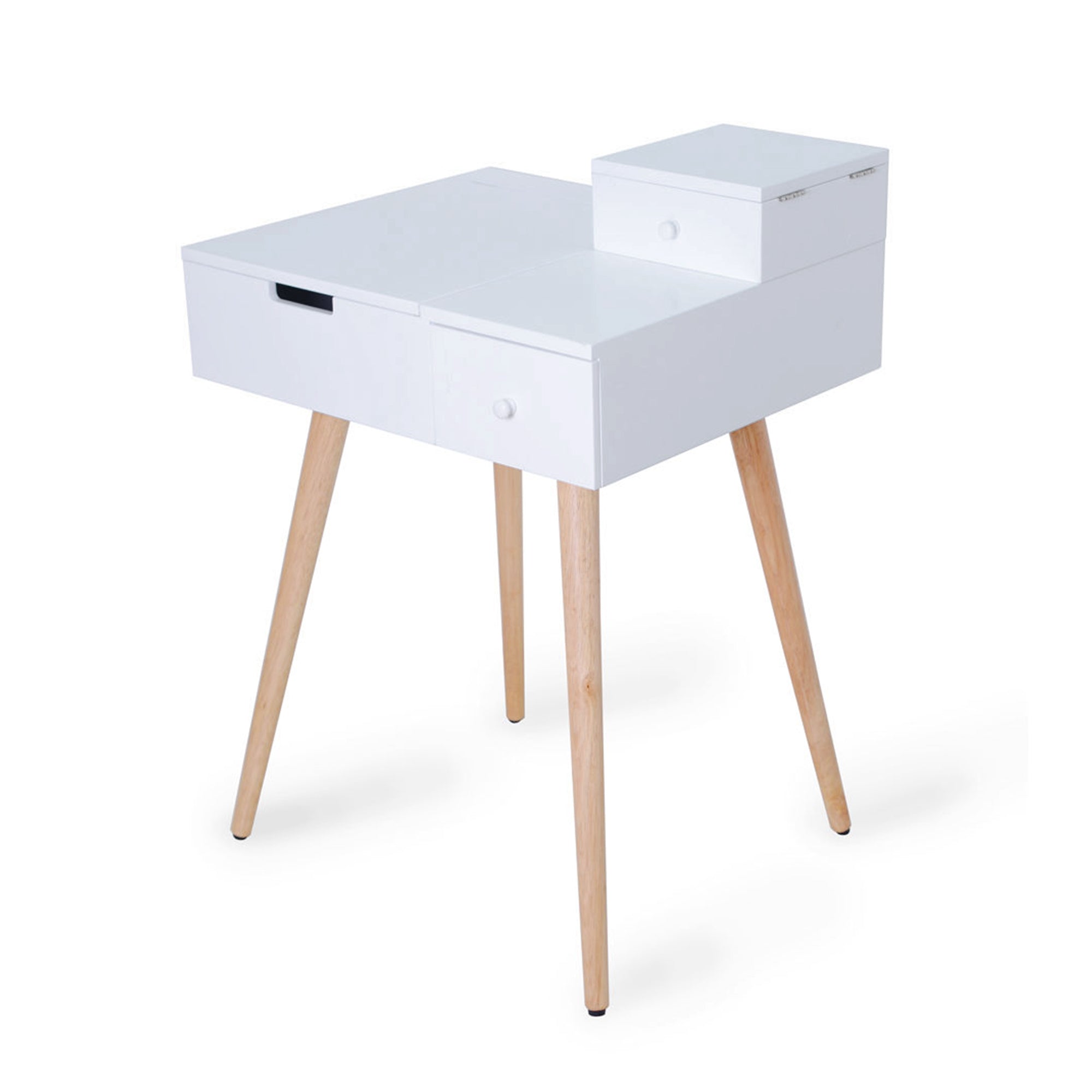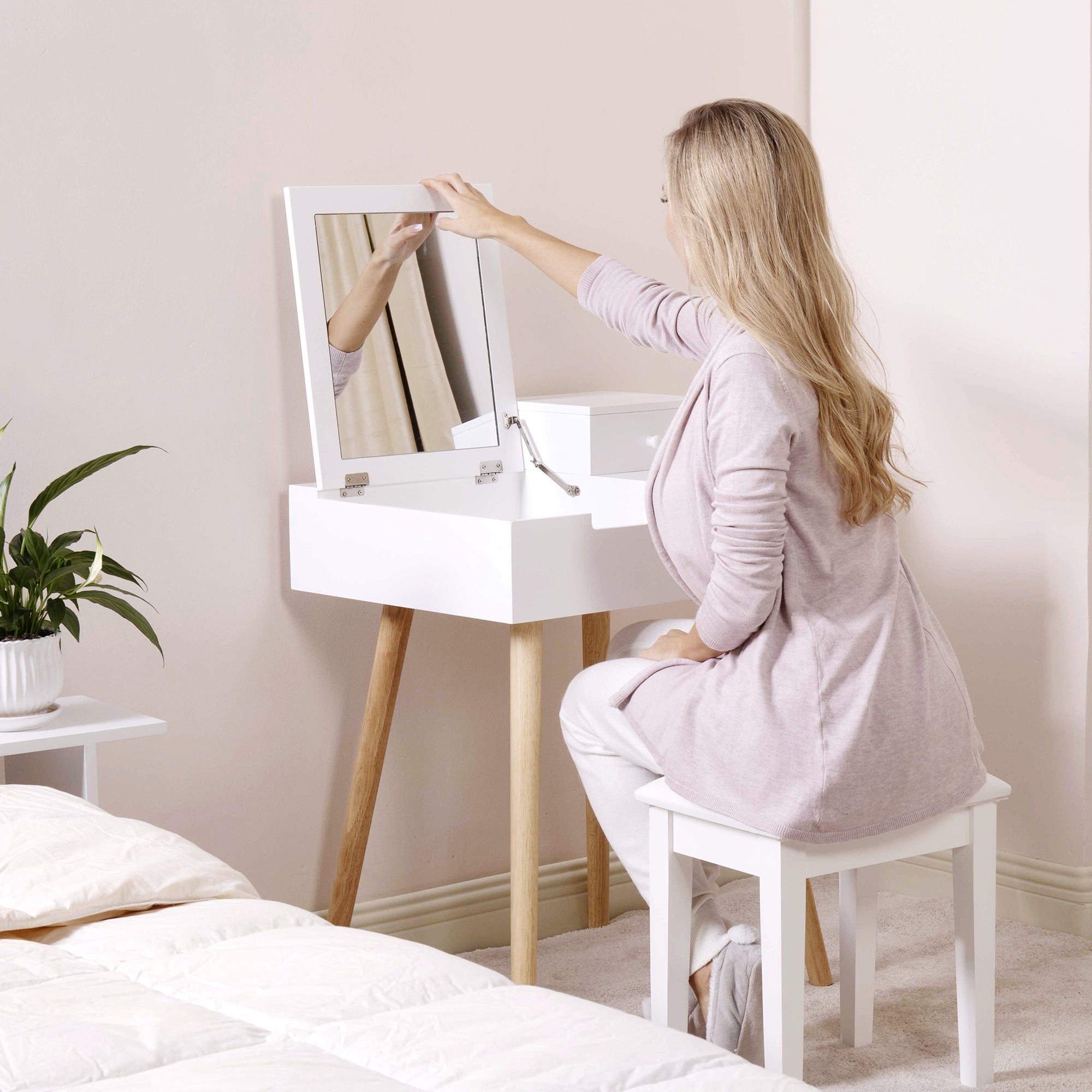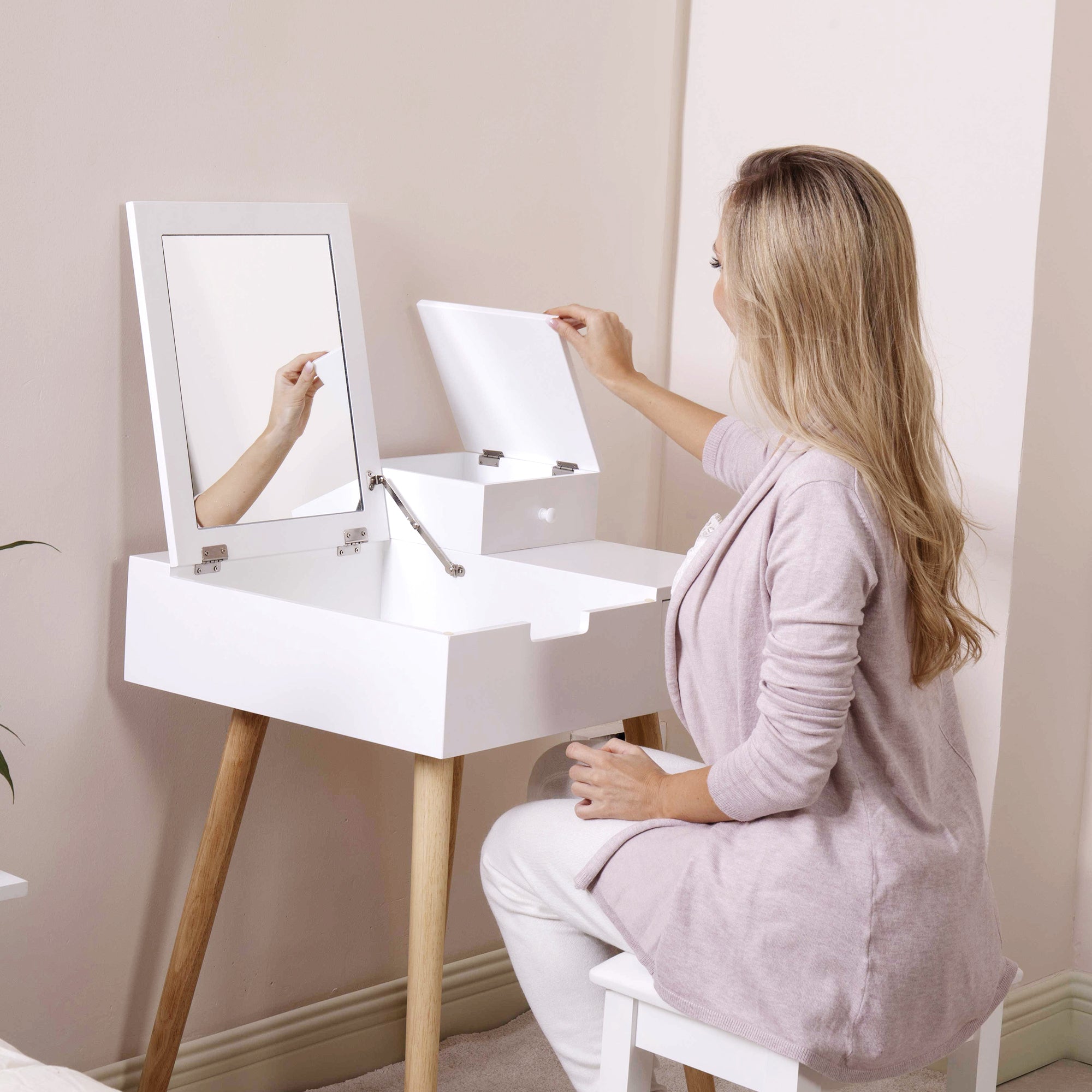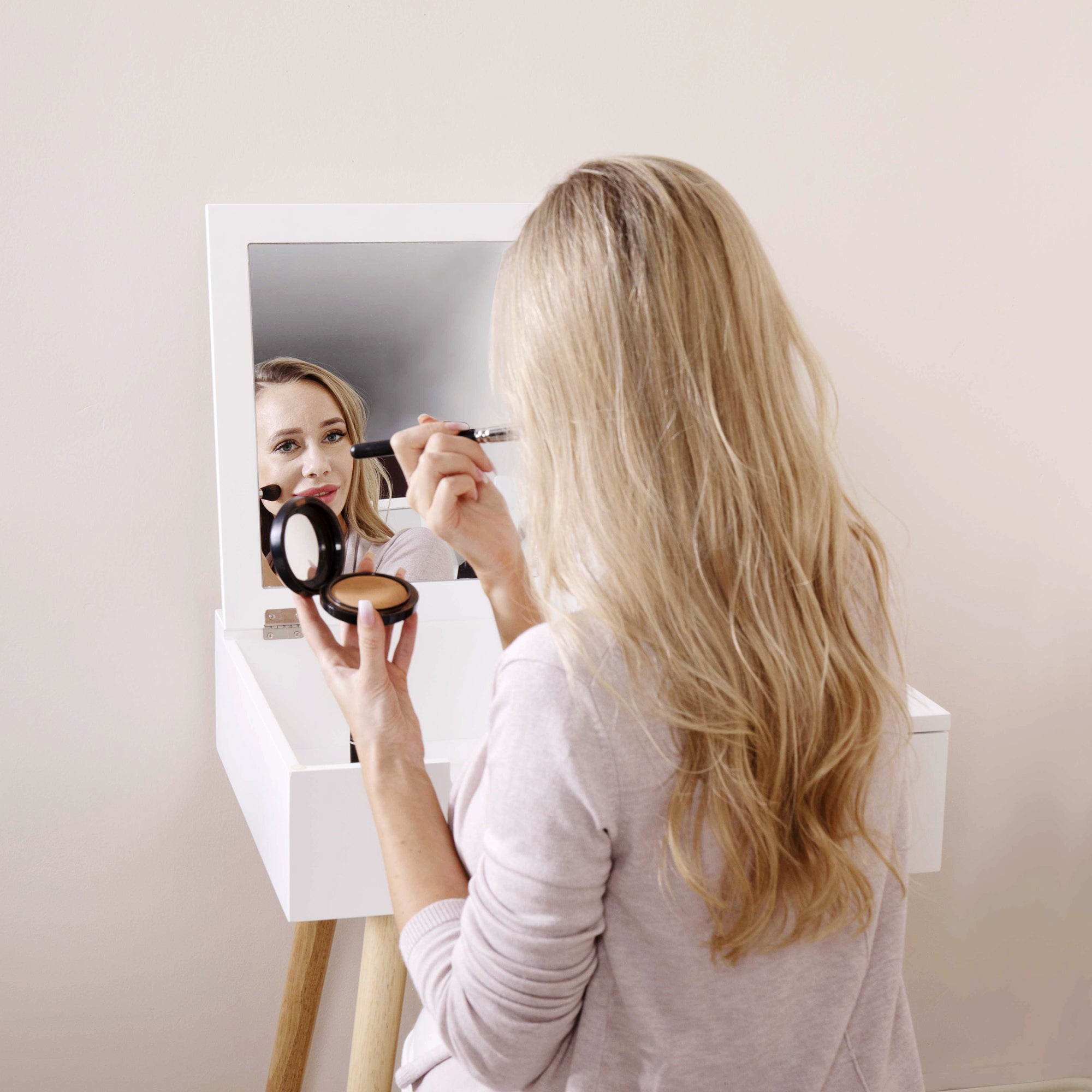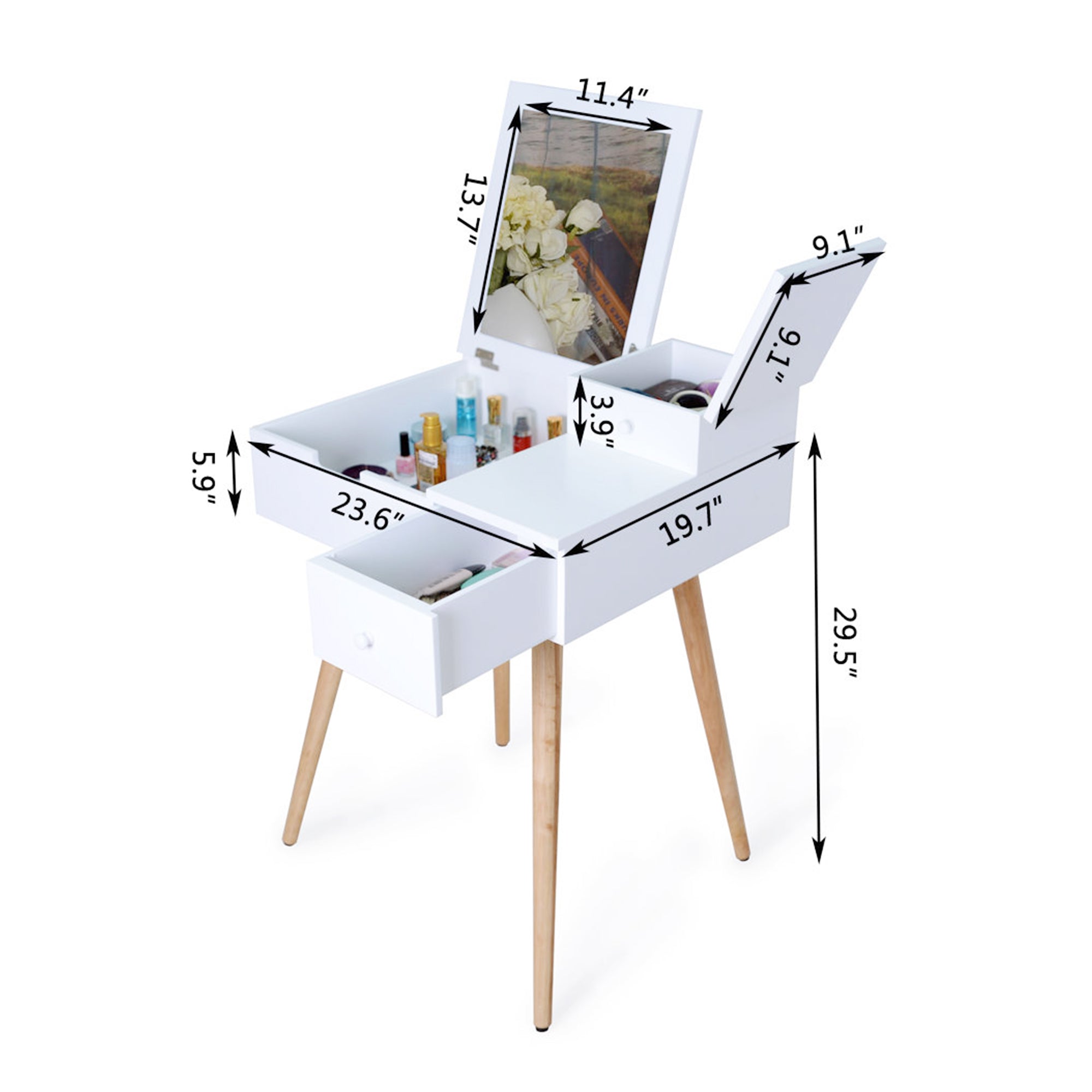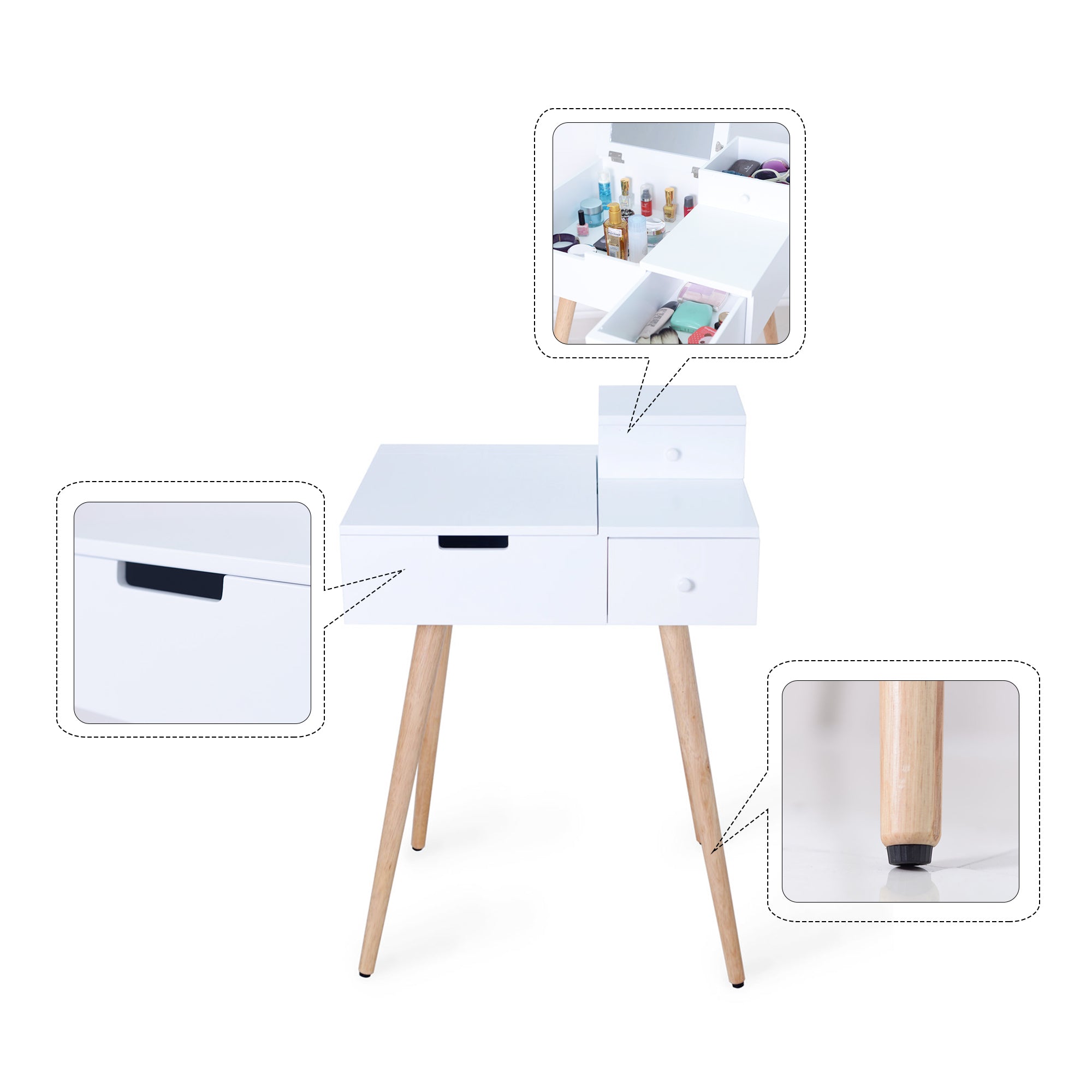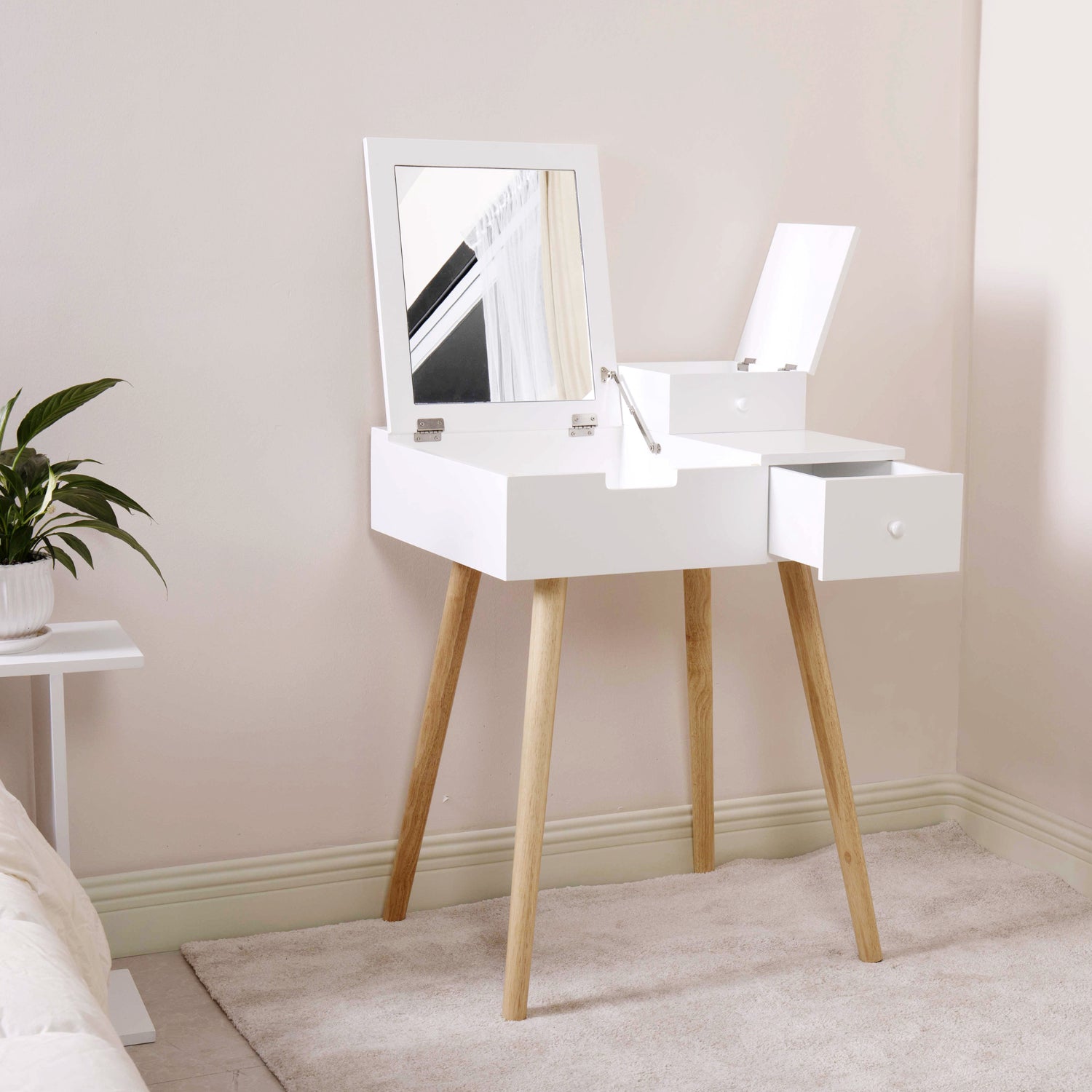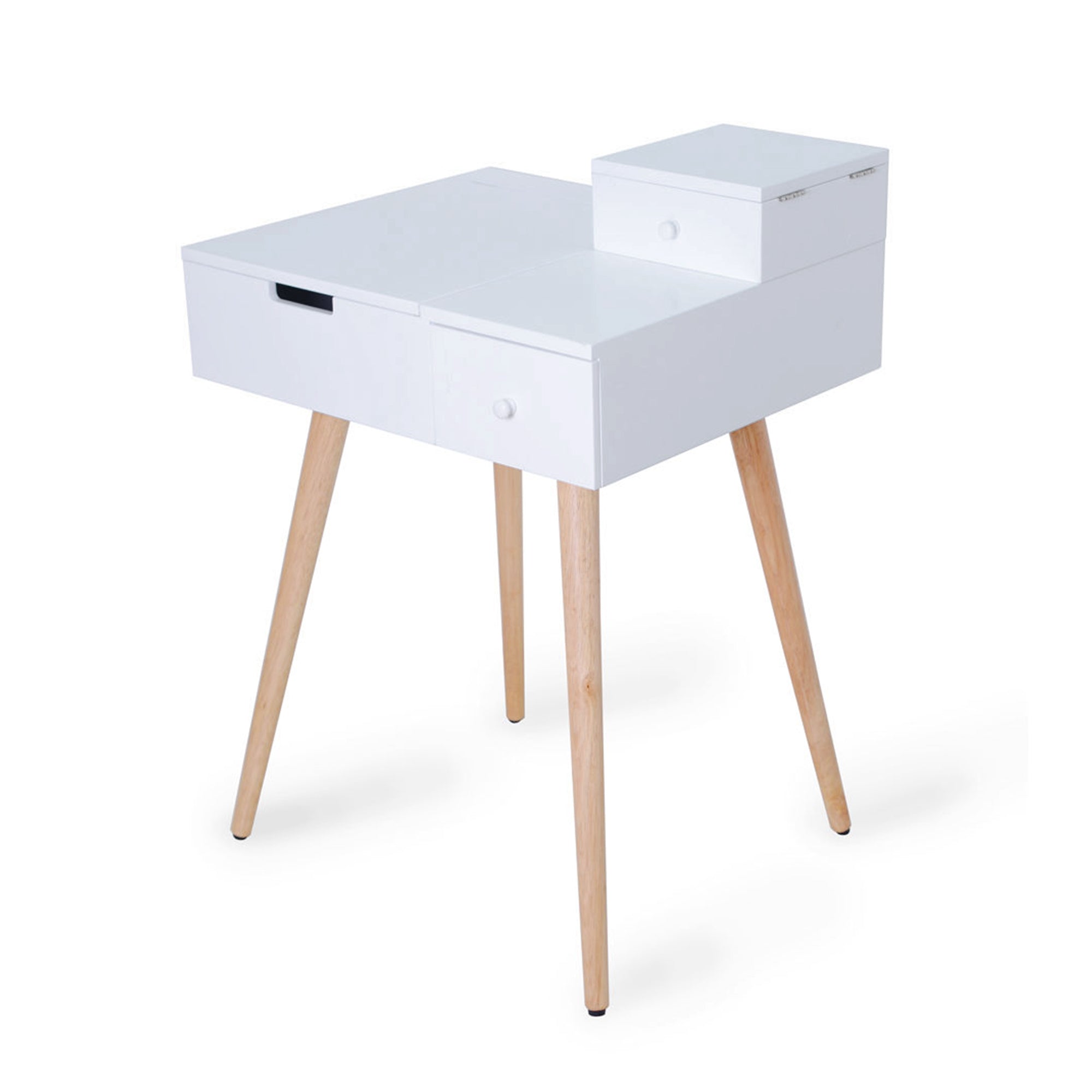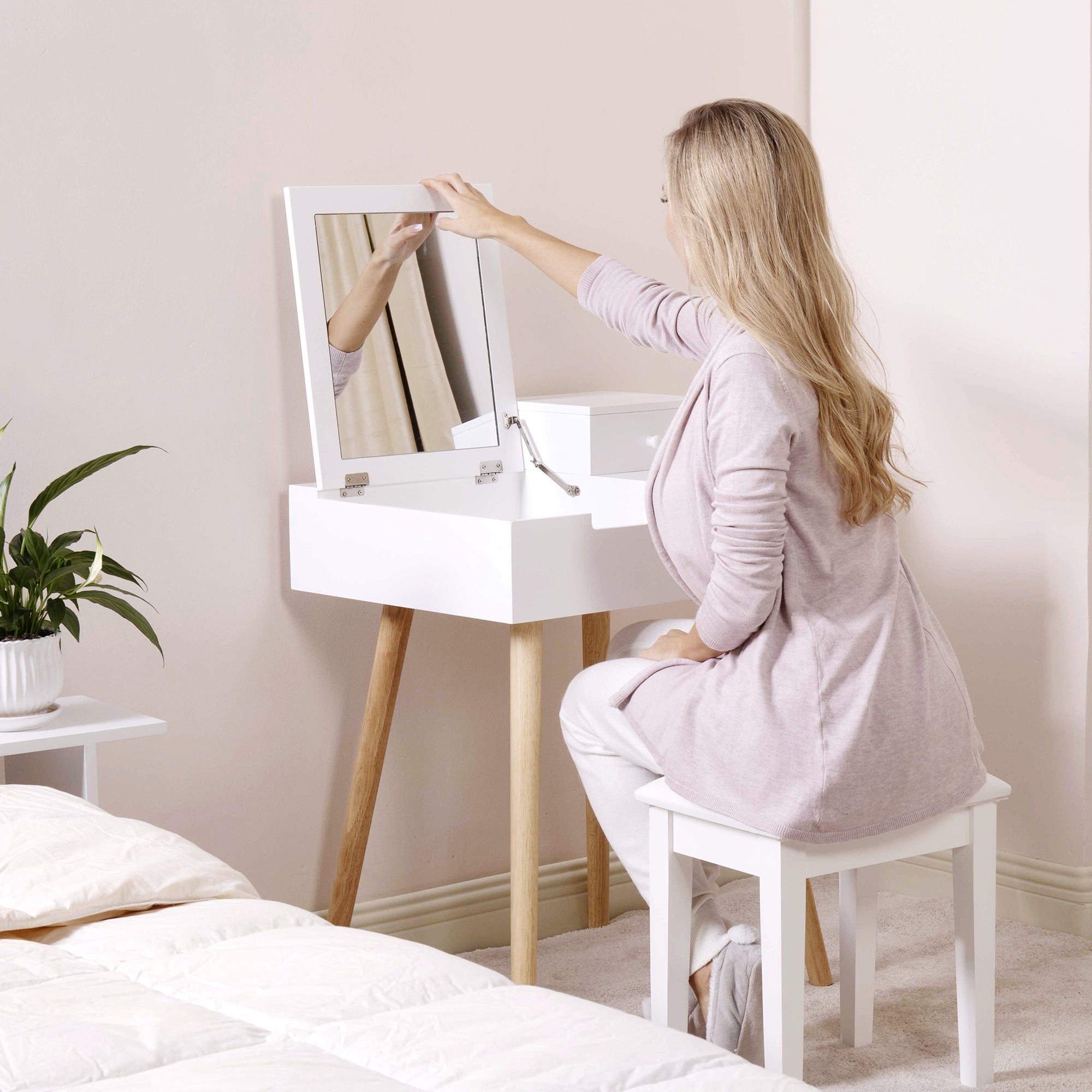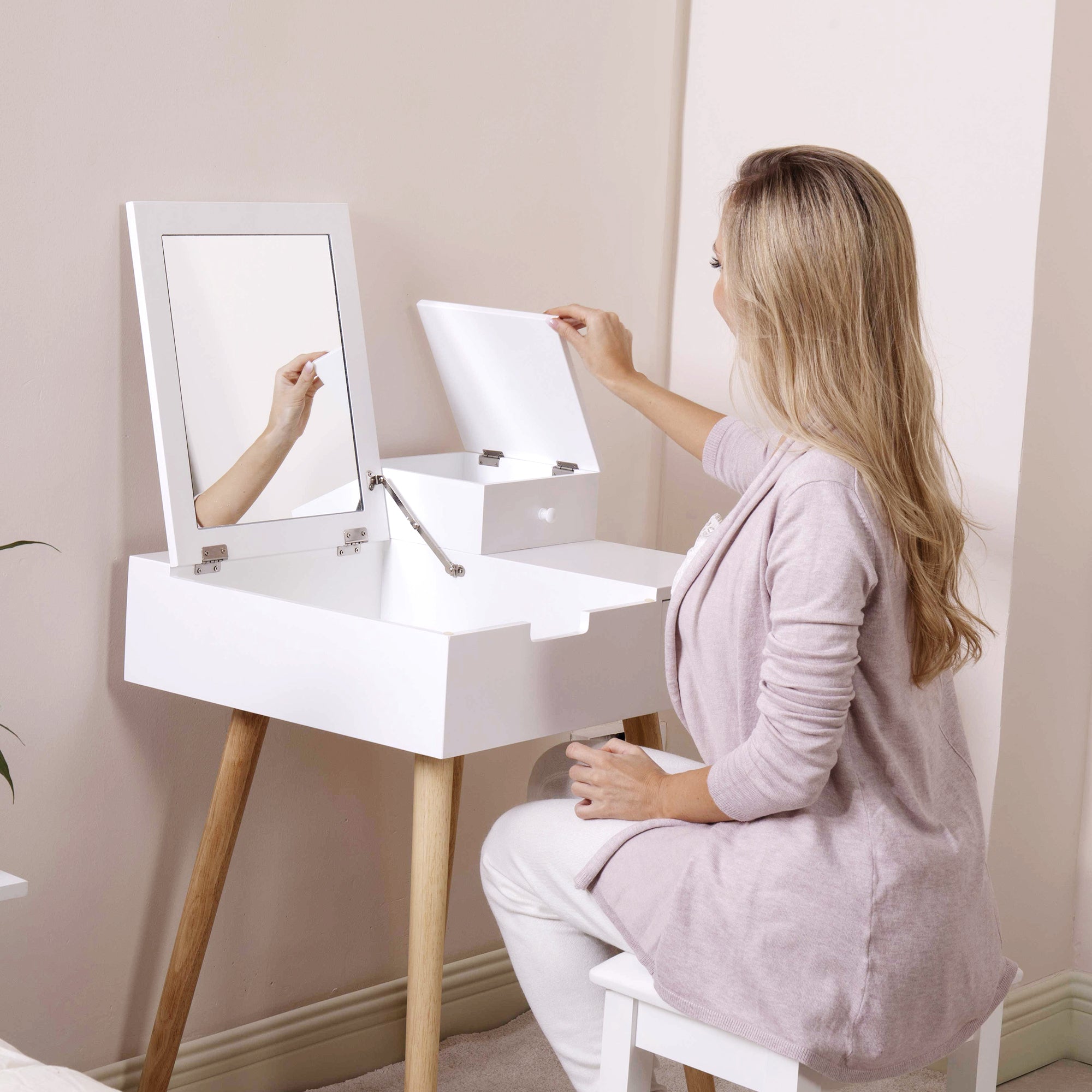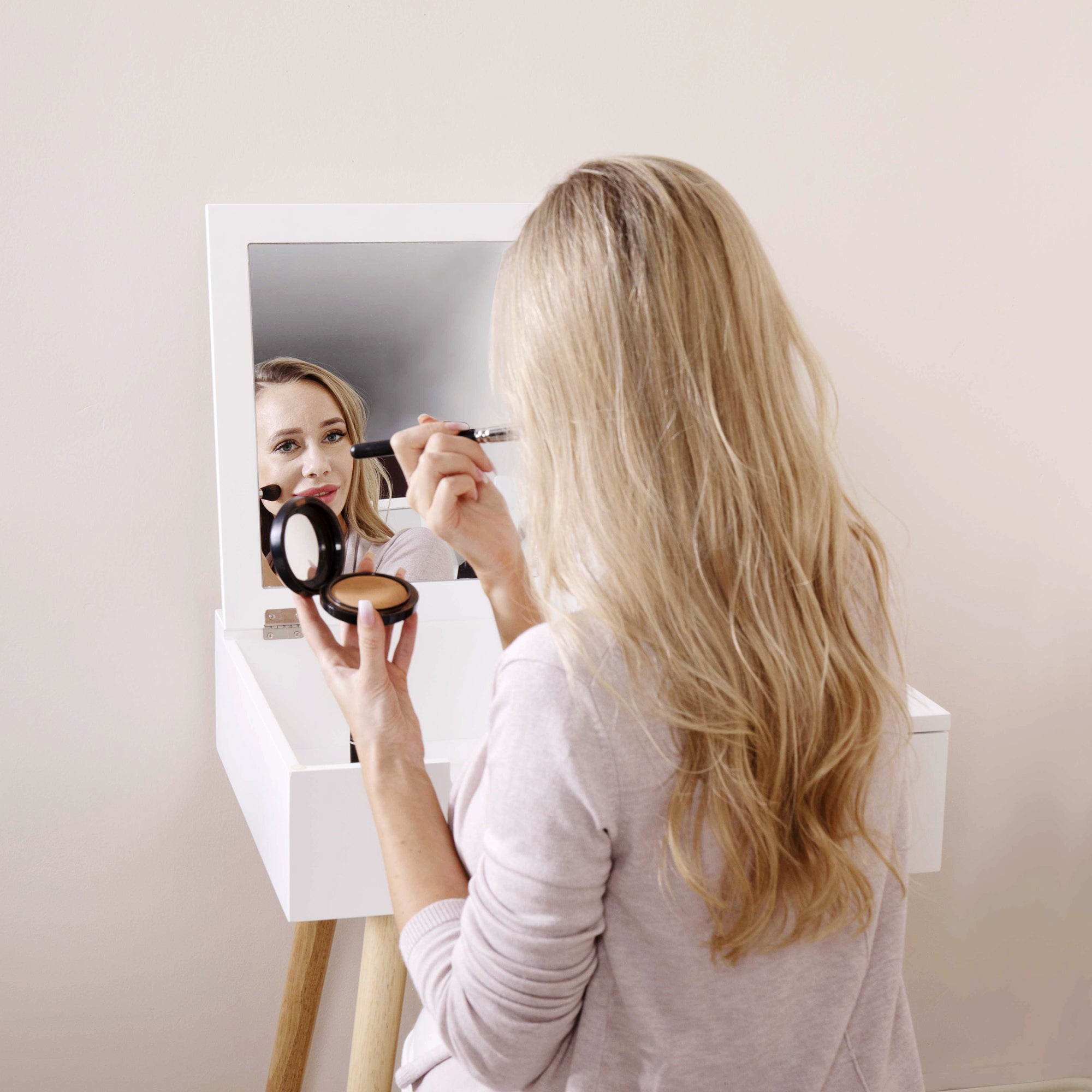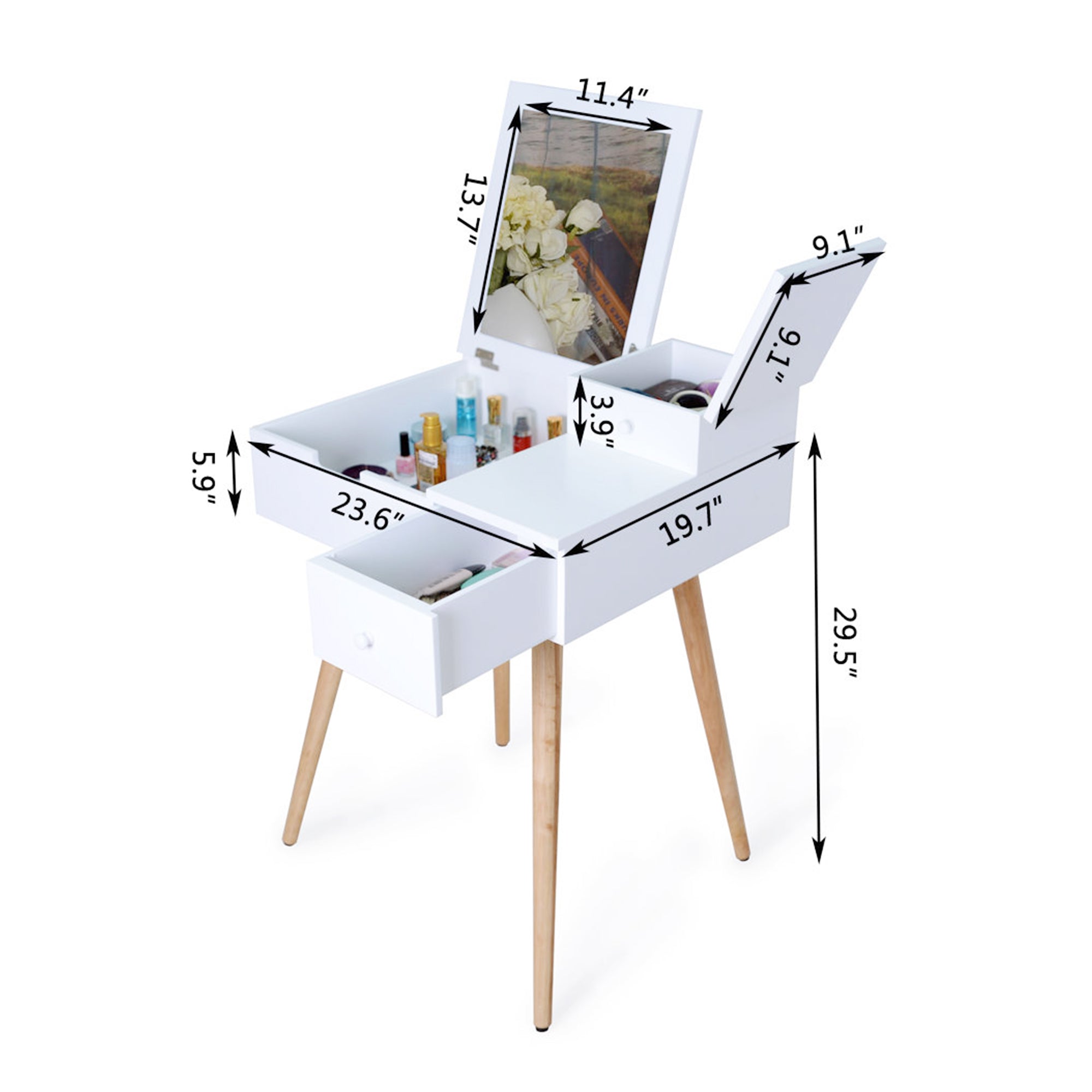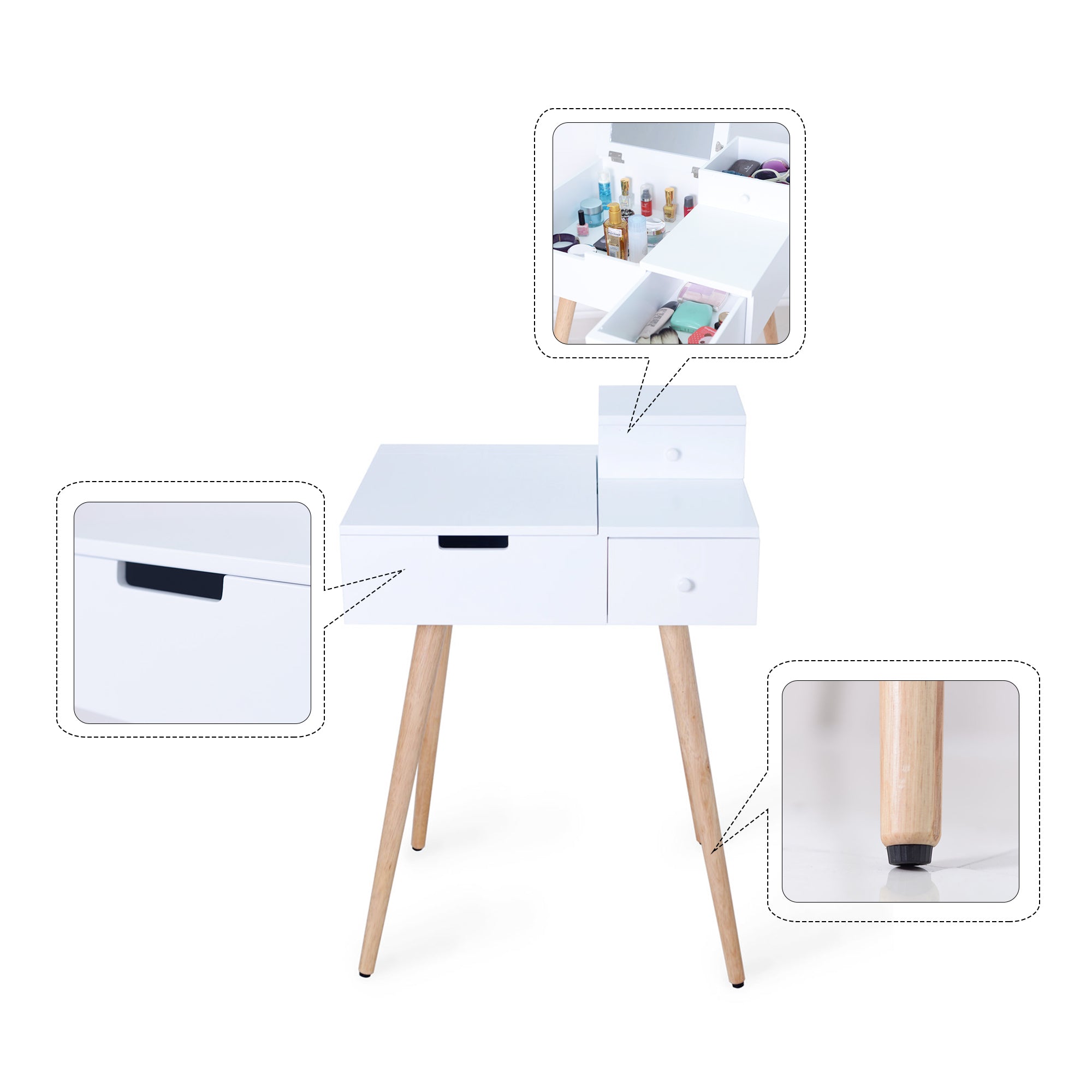 An elegant design makeup vanity table is an ideal spot to store your jewelry, cosmetics, and personal items safe all the time. The flip-top mirror with a large storage drawer and two small drawers makes this perfect addition to your bedroom, hallway, or any dressing area.


Unique Design: Elegant vanity table has a flip-top mirror with two storage drawers and a large space underneath the mirror to organize your personal items, cosmetics, jewelry in one place.

Material: The vanity is constructed with high-quality MDF tabletop, and solid wooden legs.

Quality: The high-quality of materials and expert craftsmanship make this makeup vanity table stylish and attractive.

Support: Sturdy and durable wooden legs and the table top last for years, It p

Assembly : Easy to assemble and a detailed instruction manual and the necessary tools for quick set-up.
The unique and stylish multi-functional vanity is an ideal gift for your loved ones. Whether you're prepping up for work or hang out with your friends and family, this vanity gives you a charming and superior vanity experience.

Features:
1) Design: Flip-top mirror designed vanity gives you enough tabletop space for your decorative items. Its unique style drawers make this more stunning and add elegance to your modern home décor.
2) Material: Constructed with high-quality MDF tabletop, and solid wooden legs.
3) Sturdy Vanity Table: Sturdy and durable solid wooden legs able to withstand for years.
4) Enough Storage Space: Large space underneath the flip-top mirror, two separate flip-top, and sliding drawers help you to organize all kinds of jewels, spray, bottles, lipstick, lotions, photos, and decoration in one place.
5) Multi-functional: This vanity can also be used as writing desk as per your convenience.

Approx. Dimensions (Inches)
1) Overall (L x W x H) : 19.7 x 23.6 x 29.5
2) Table Top Height From Floor: 29.5

Assembly:
1) Please follow the instruction manual to assemble it.

Good To Know:
1) Please refer to the images for detailed dimensions.
2) The actual color of the item may slightly vary from the merchandise pictures due to the photographic lighting sources, monitor's display, etc.
3) Please do not use craft knife to open the box.
Limited Warranty
What is covered?
1. This limited warranty covers defects in materials and workmanship in this product by default.
2. If a product by default is defective, it has to be reported within 15 days of receiving and the required part(s) can be shipped to the customer if and when available.
What is not covered?
This limited warranty does not cover any damage caused by the owner modifying, attempting to fix, or otherwise altering the product.
This limited warranty excludes warranties from certain parts, such as the screws and bolts.
This also does not warrant that product would not become obsolete or out of stock at some point in the future and part and full product replacement will not be possible.
Warranty does not cover shipping charges to replace the parts.
Warranty voids if the damage was done due to incorrect assembly procedure (including extra tightening the screw that it loses thread)
Purchase of ViscoLogic product from an unauthorized dealer
How long does this coverage last?
This warranty lasts for 360 days from the date of original purchase of this product.
Who is covered?
This limited warranty covers only the original purchaser of the product. The limited warranty is not transferable to subsequent owners or purchasers of this product.