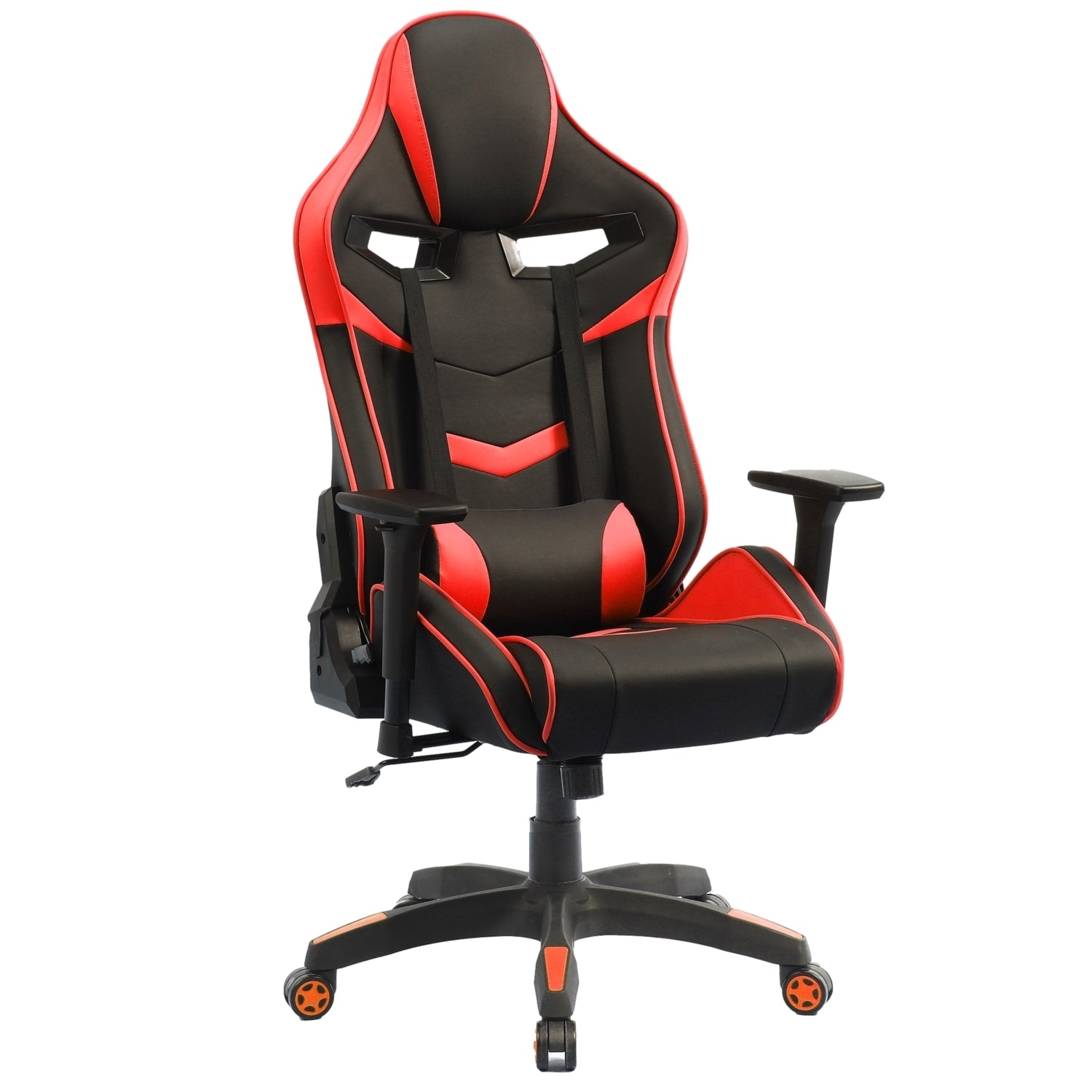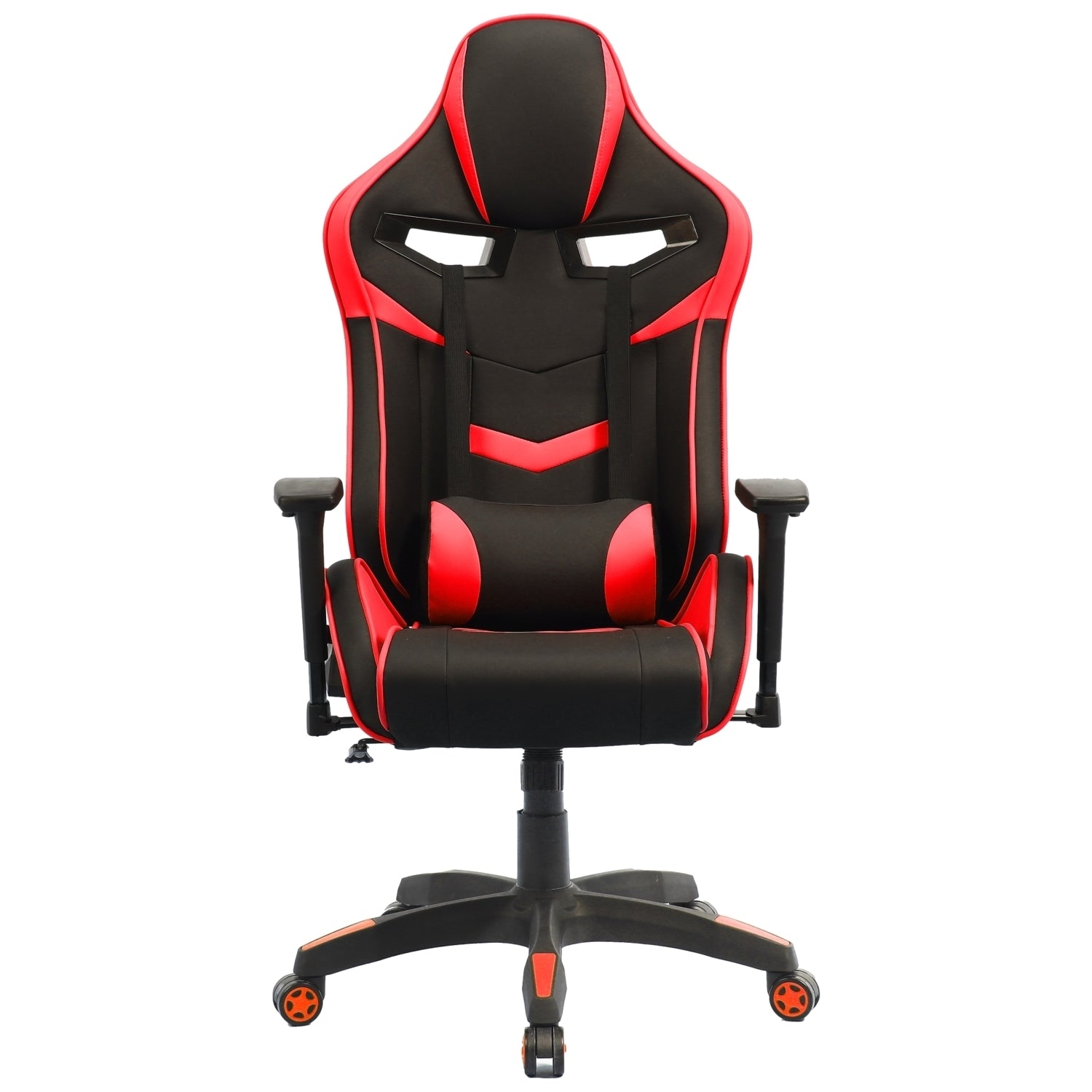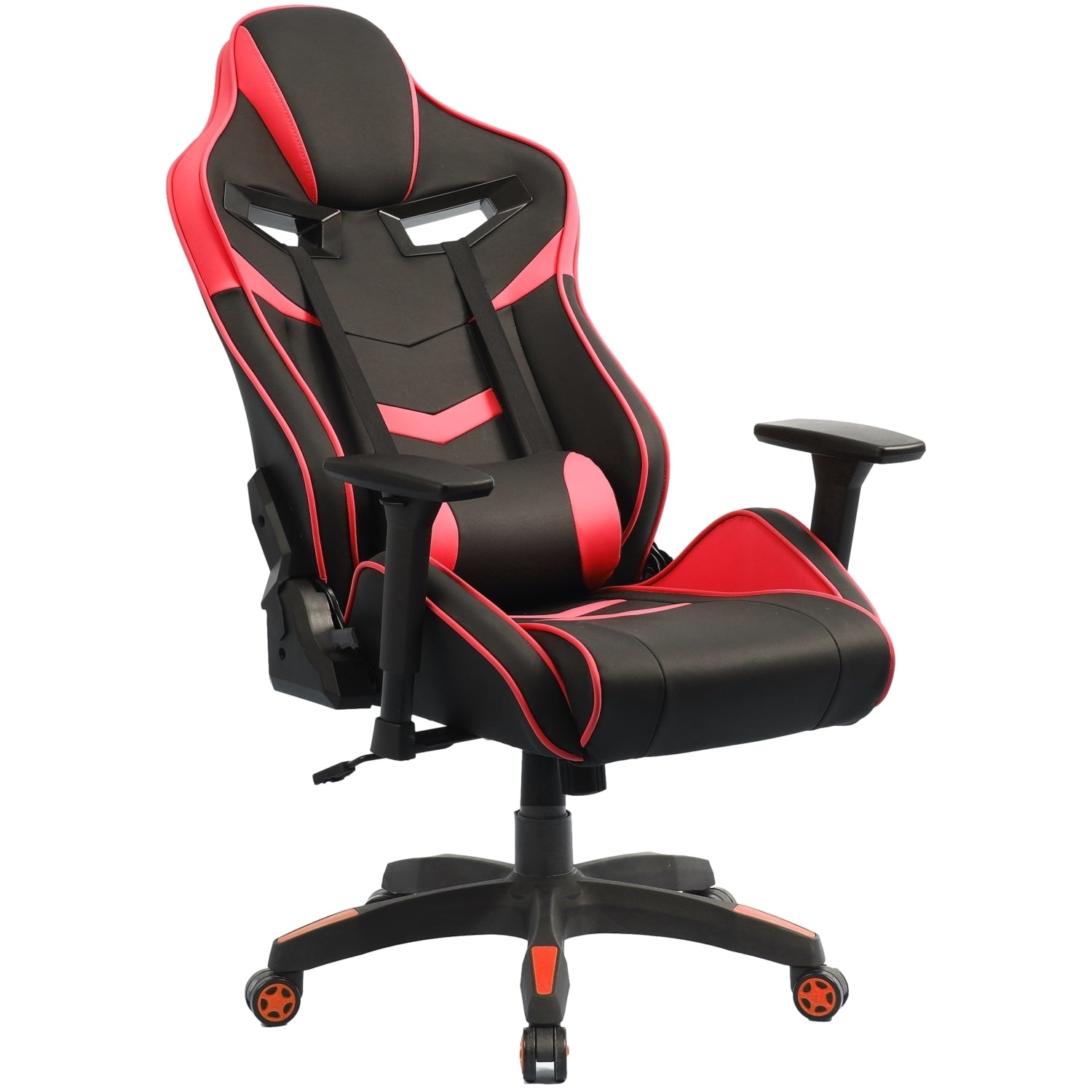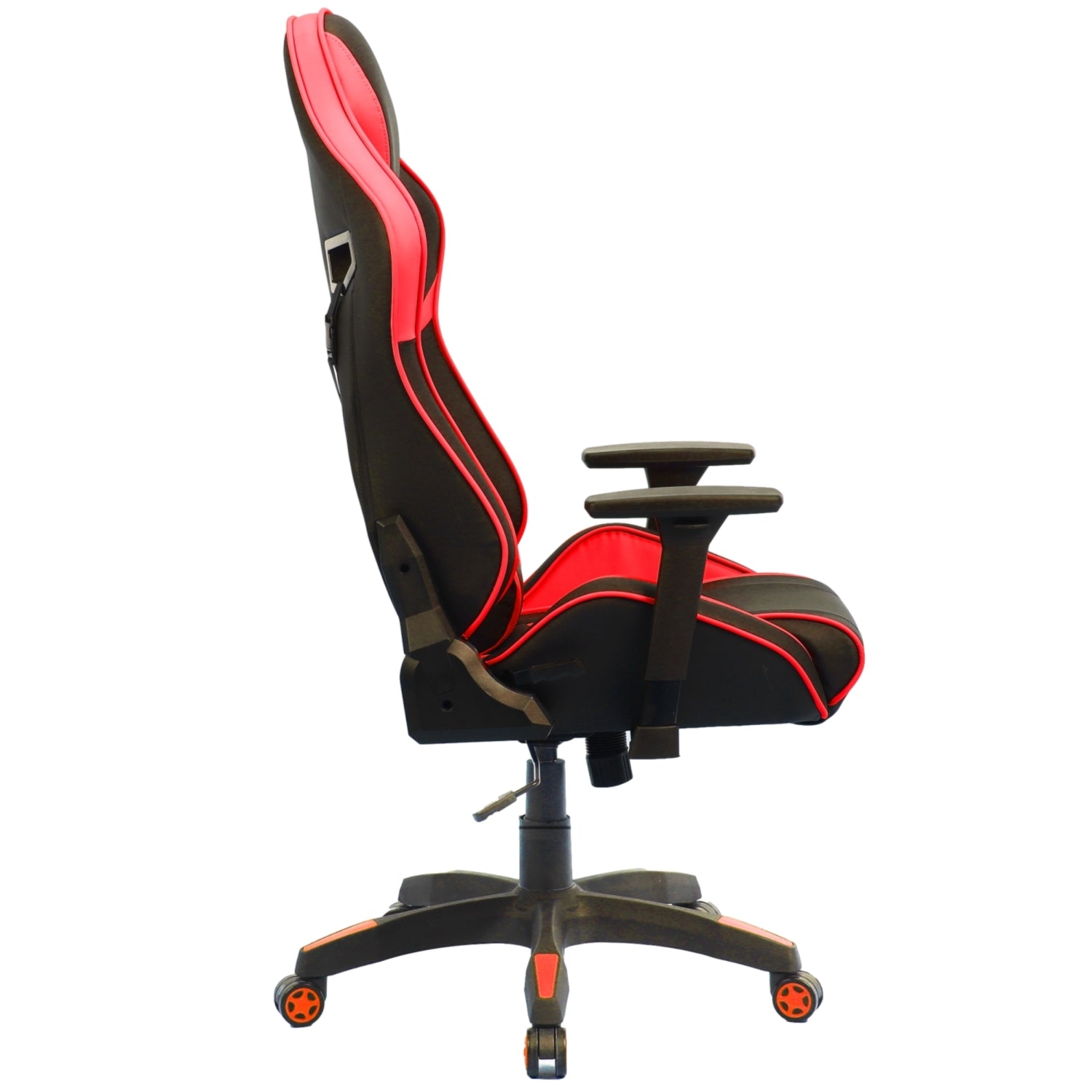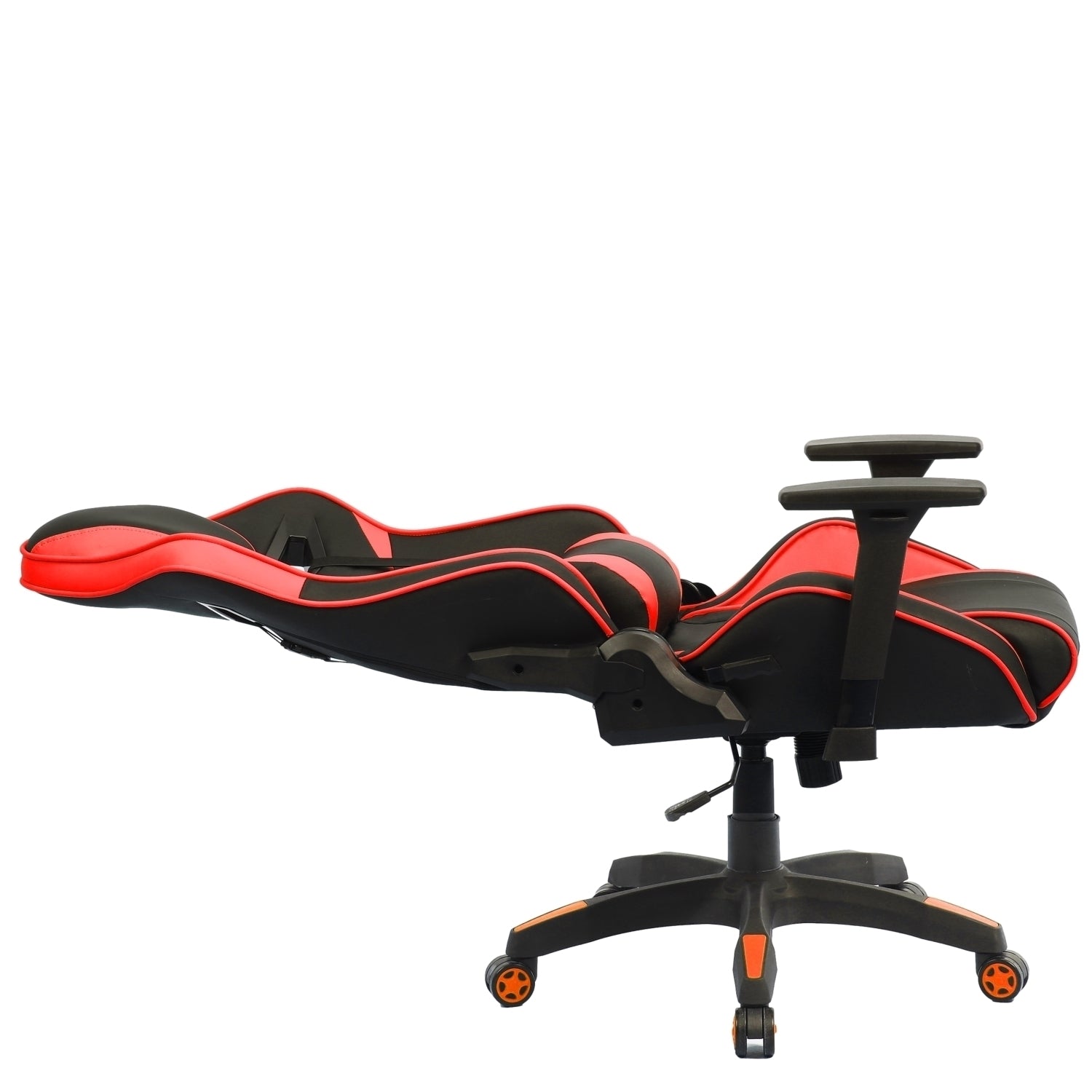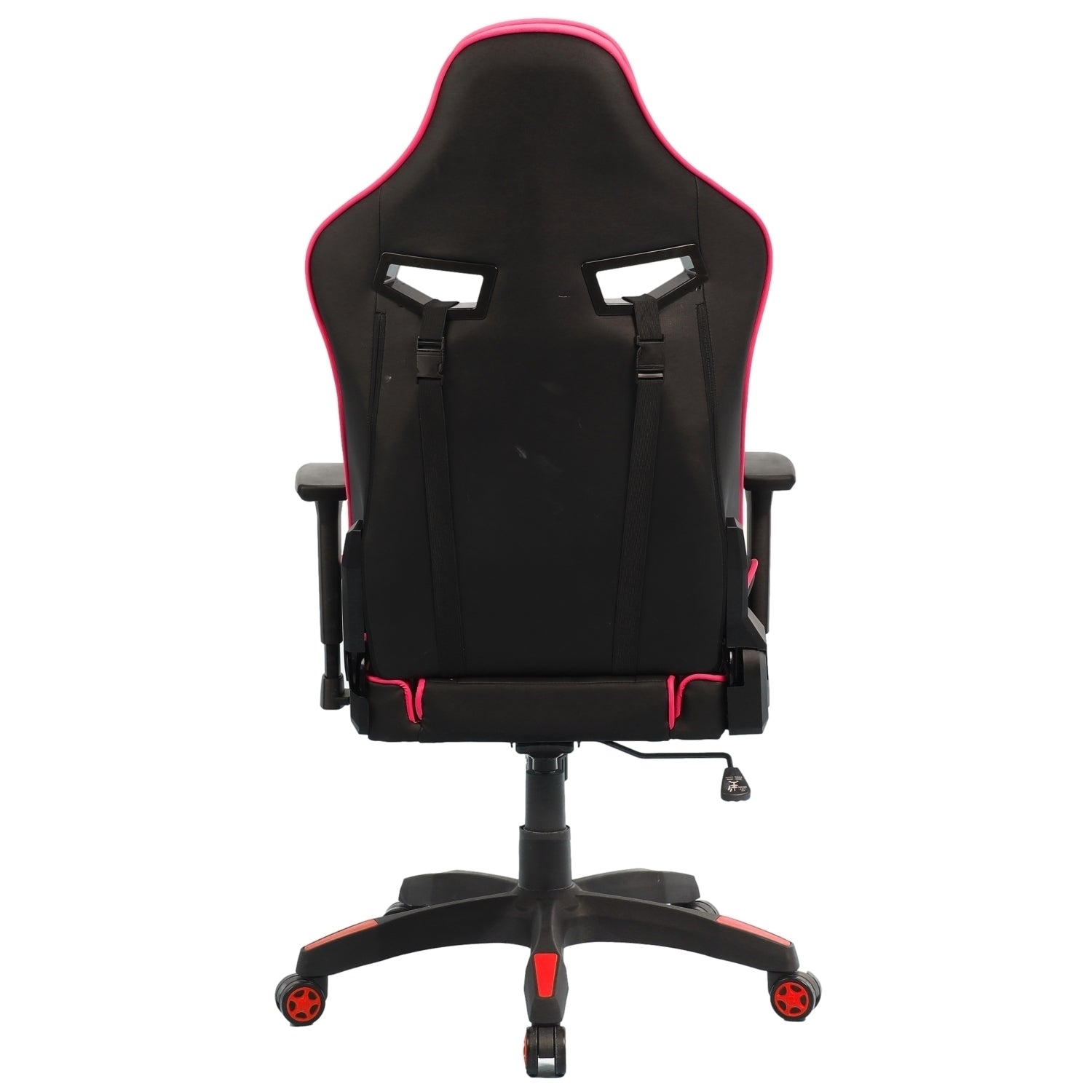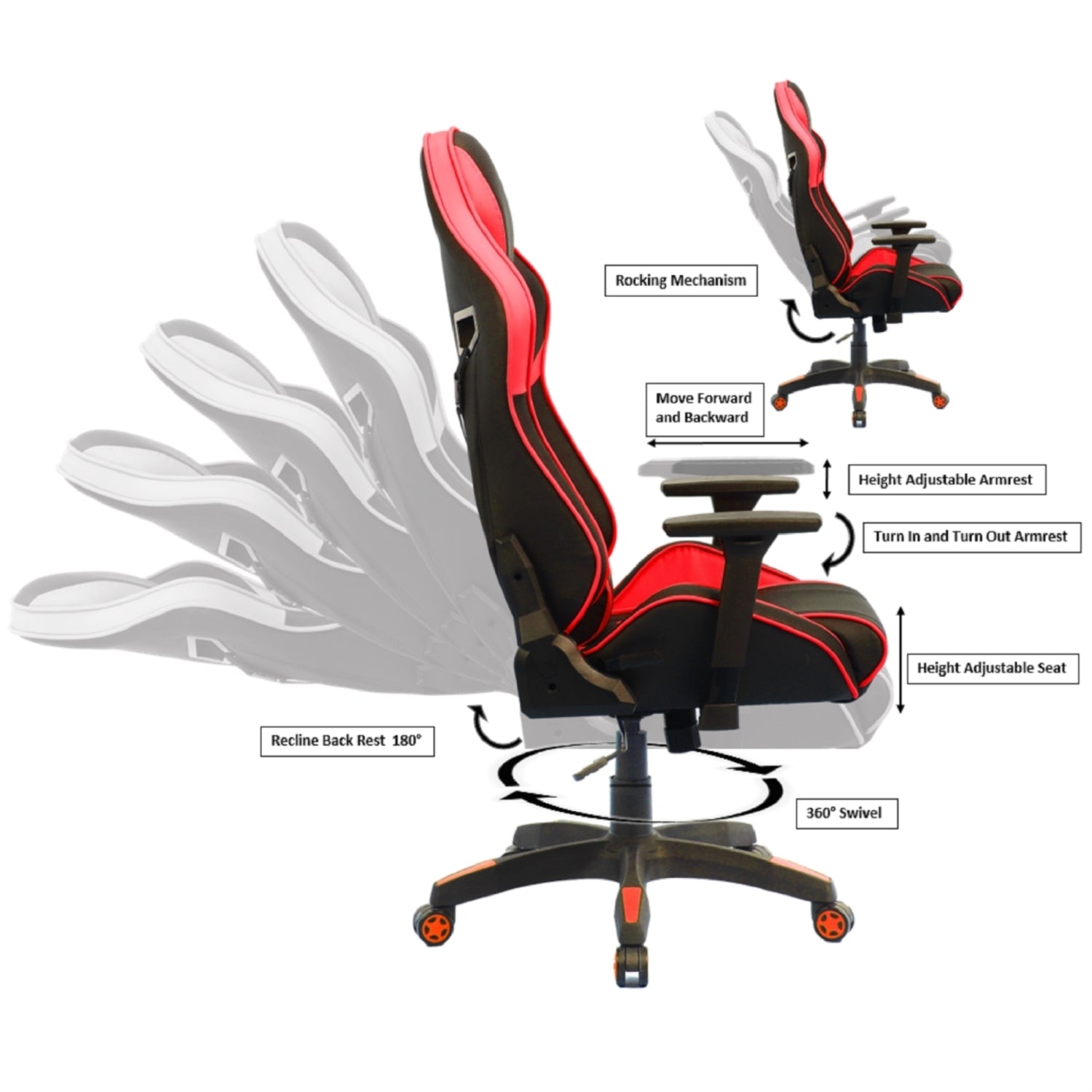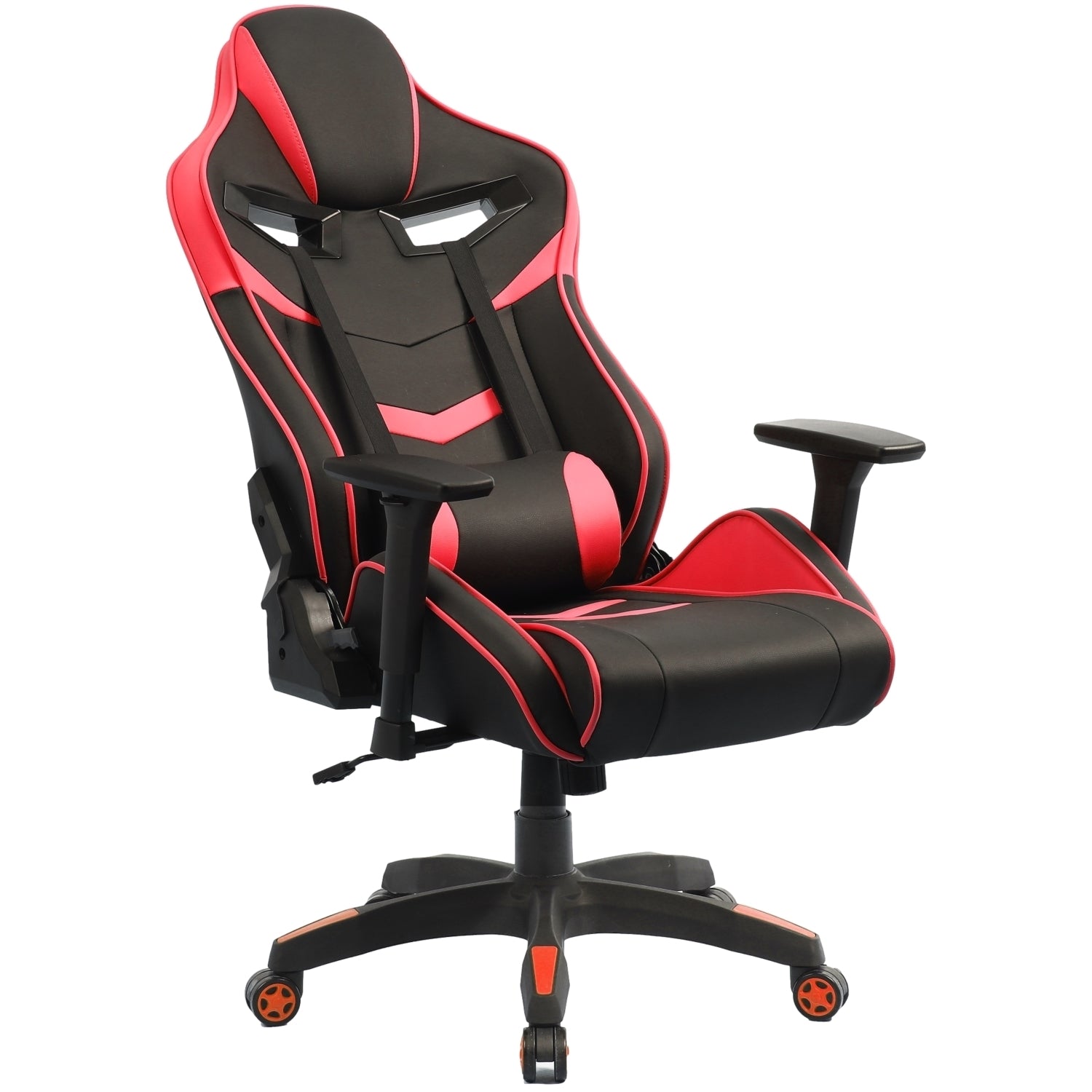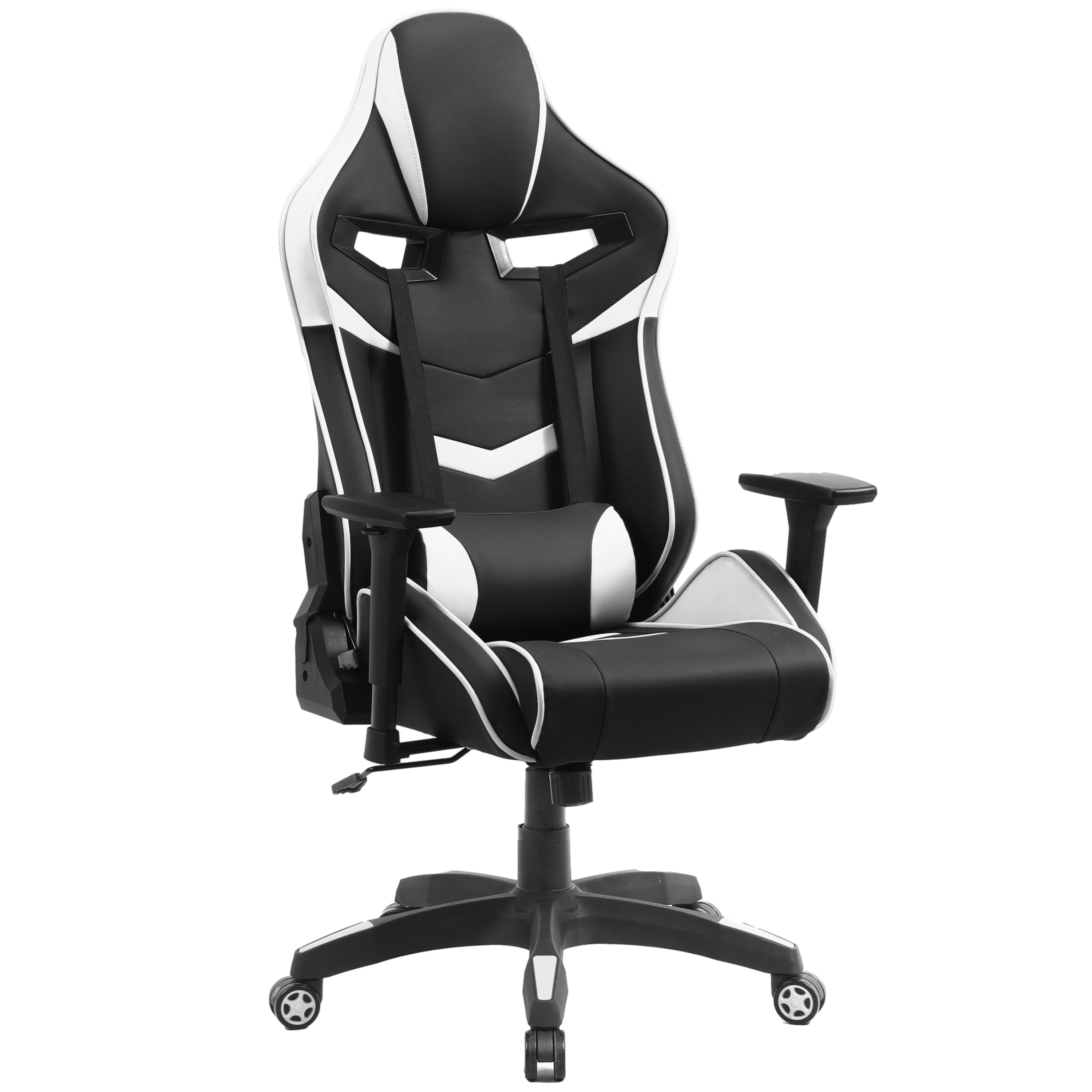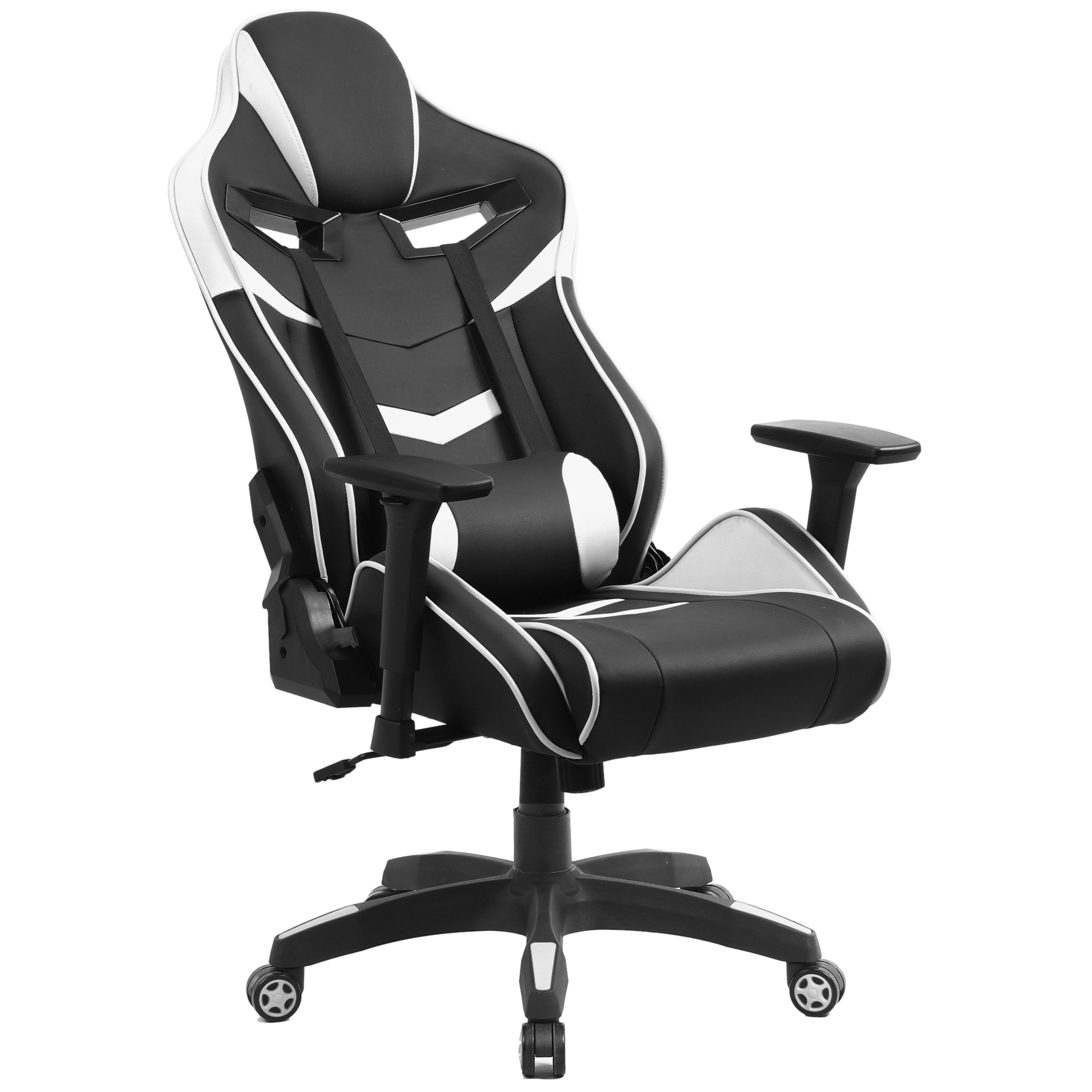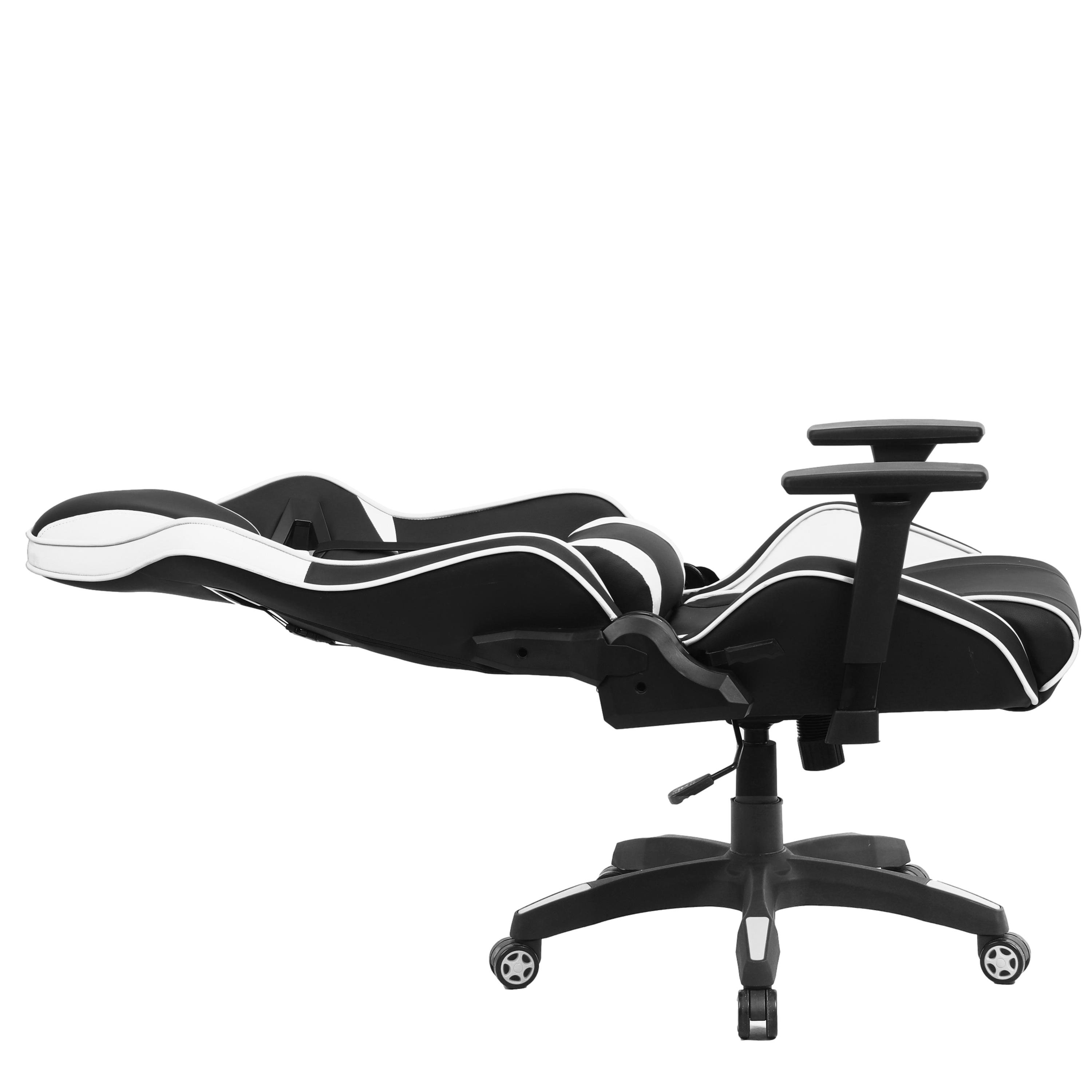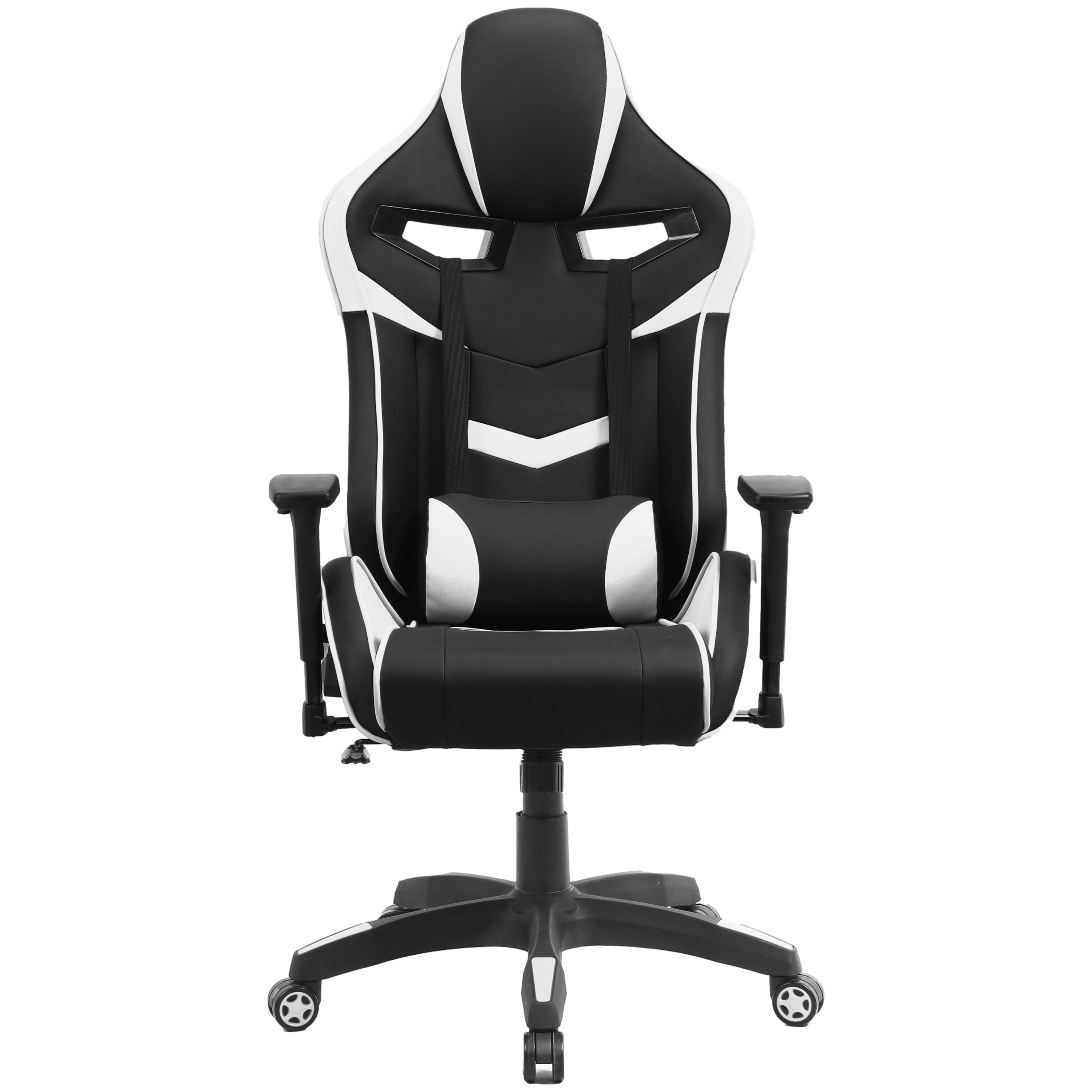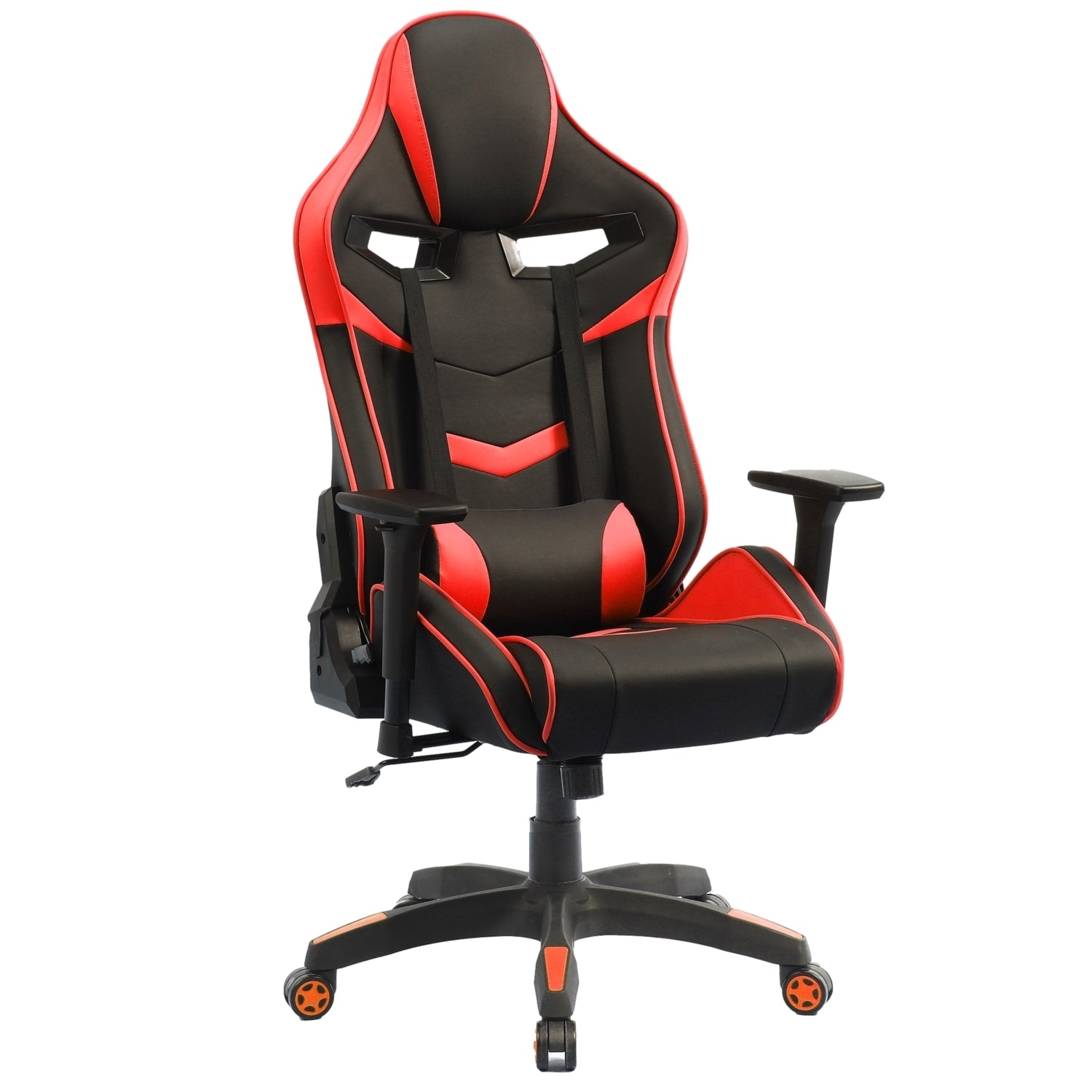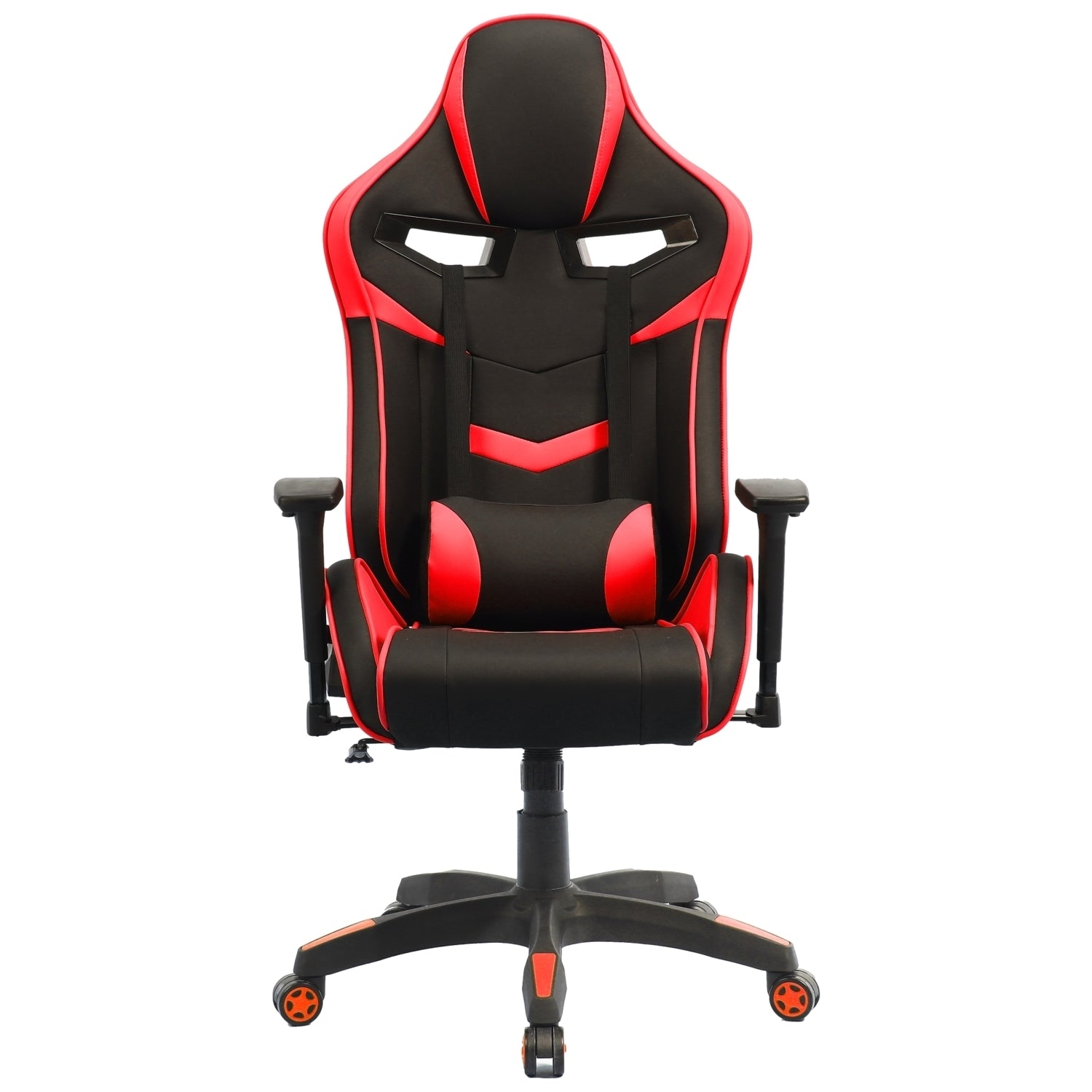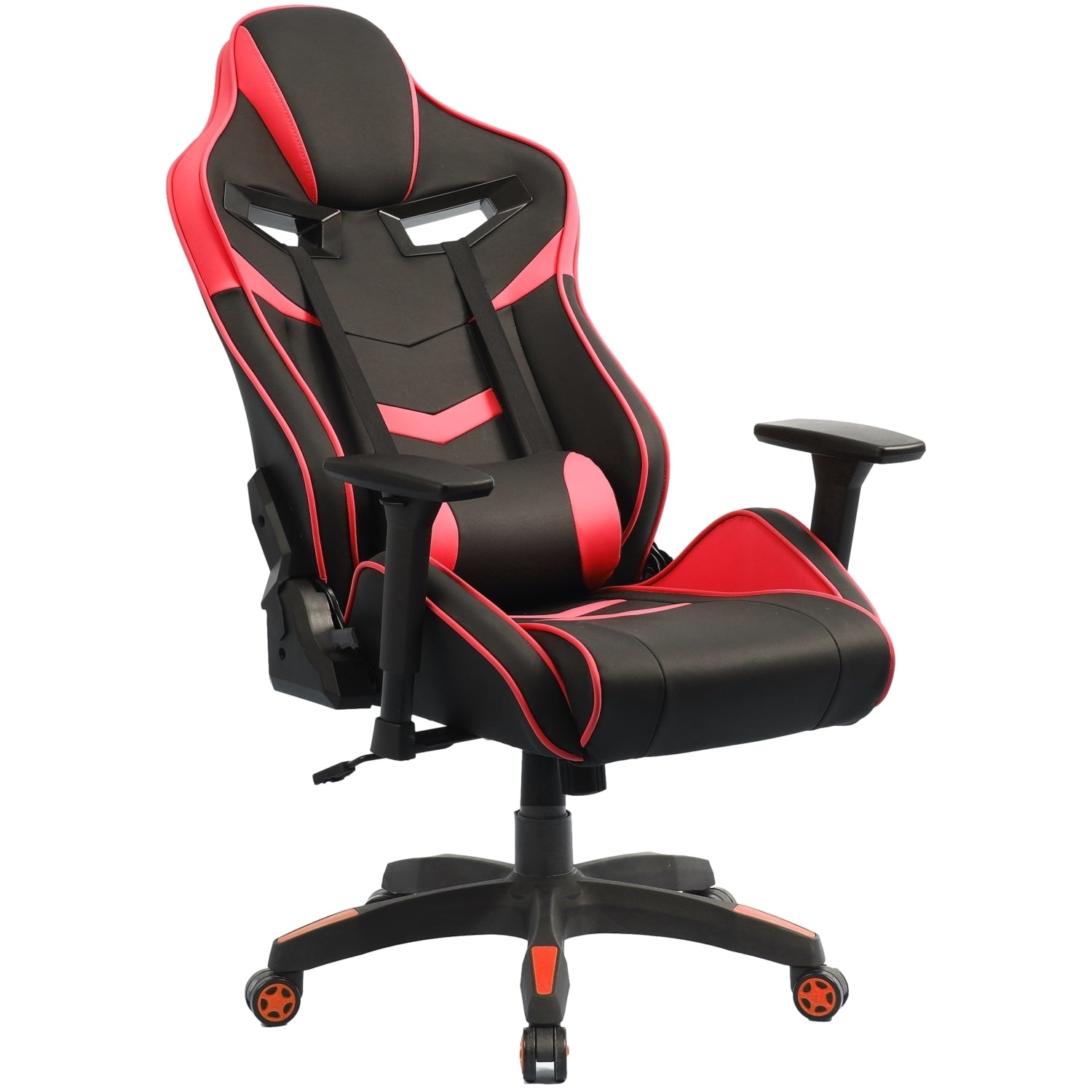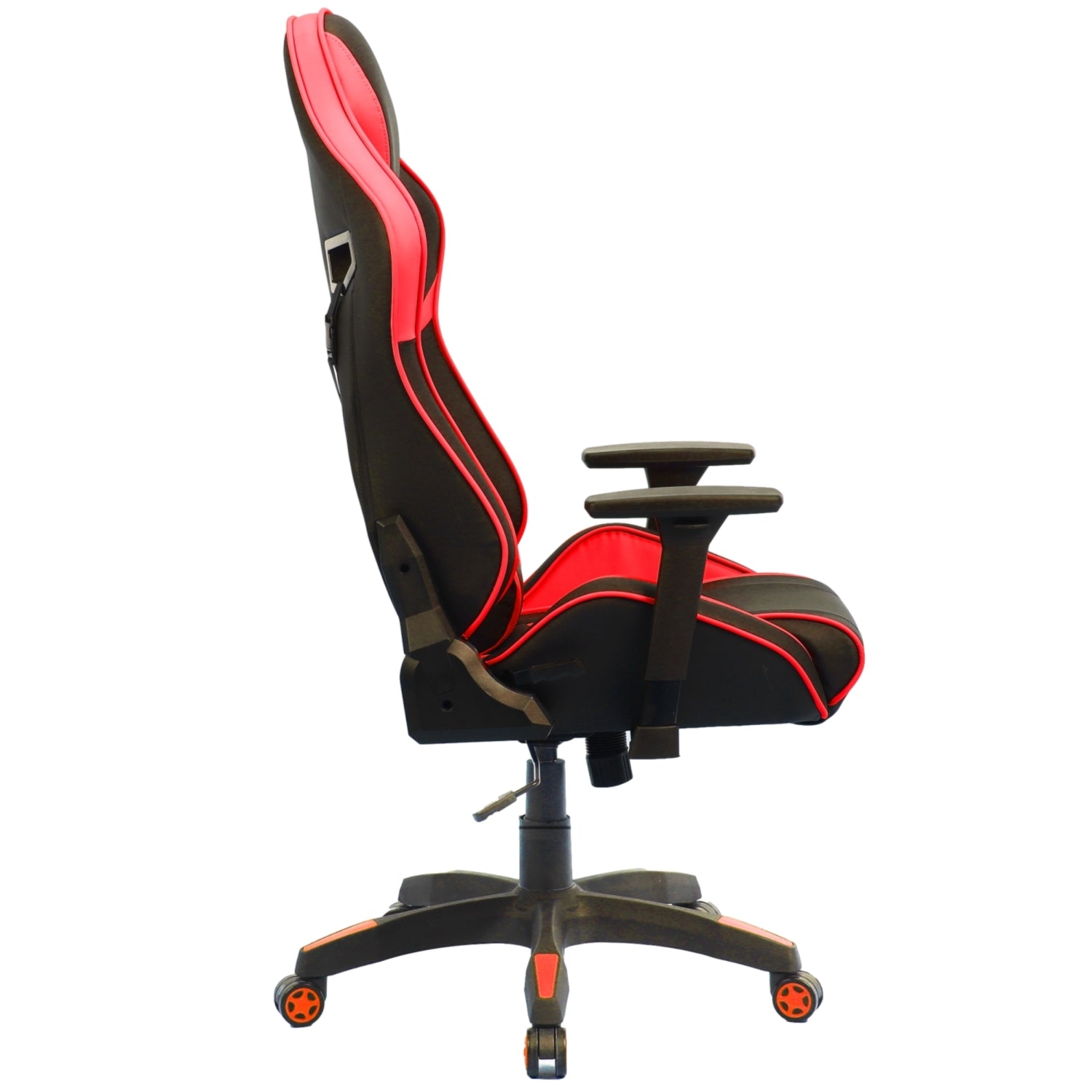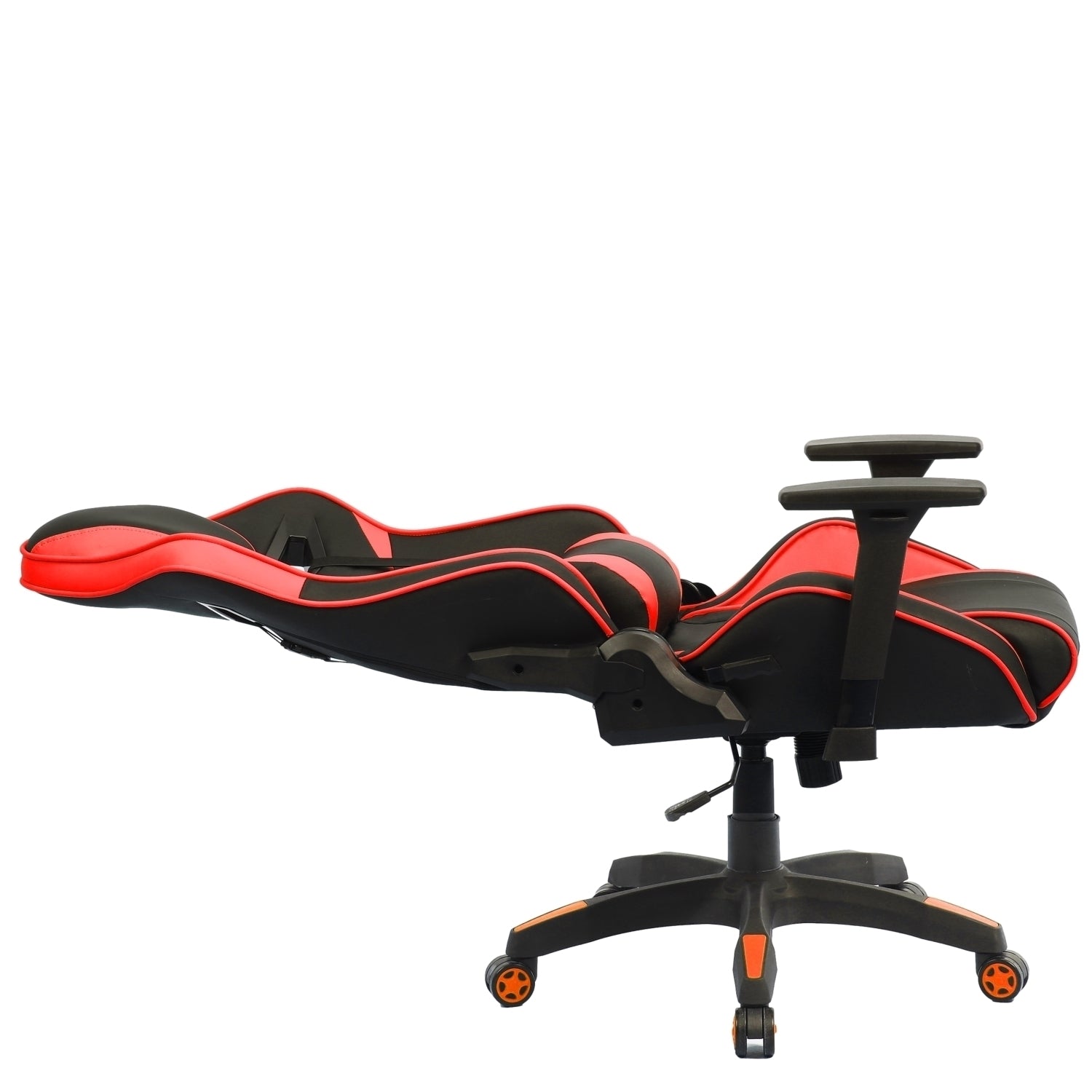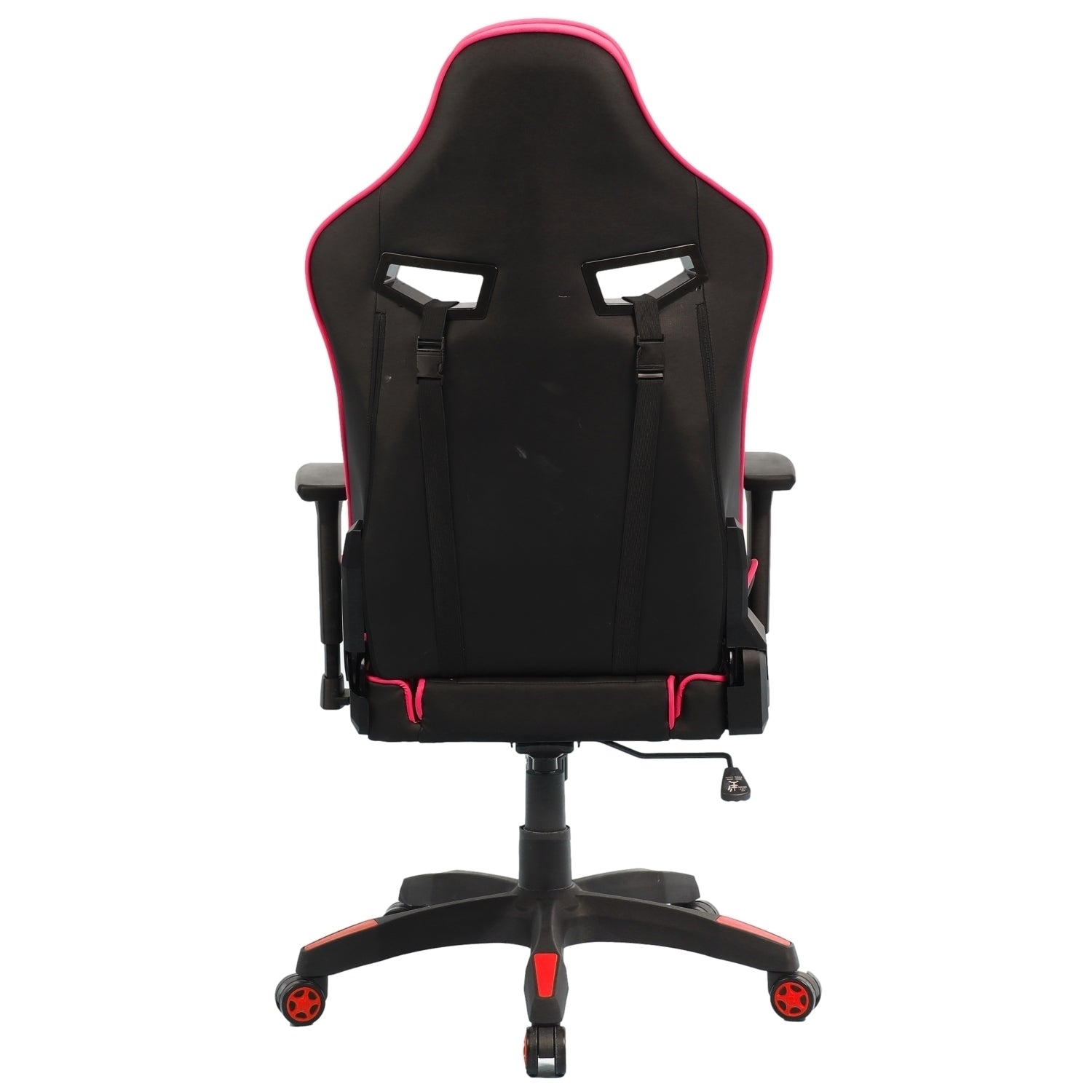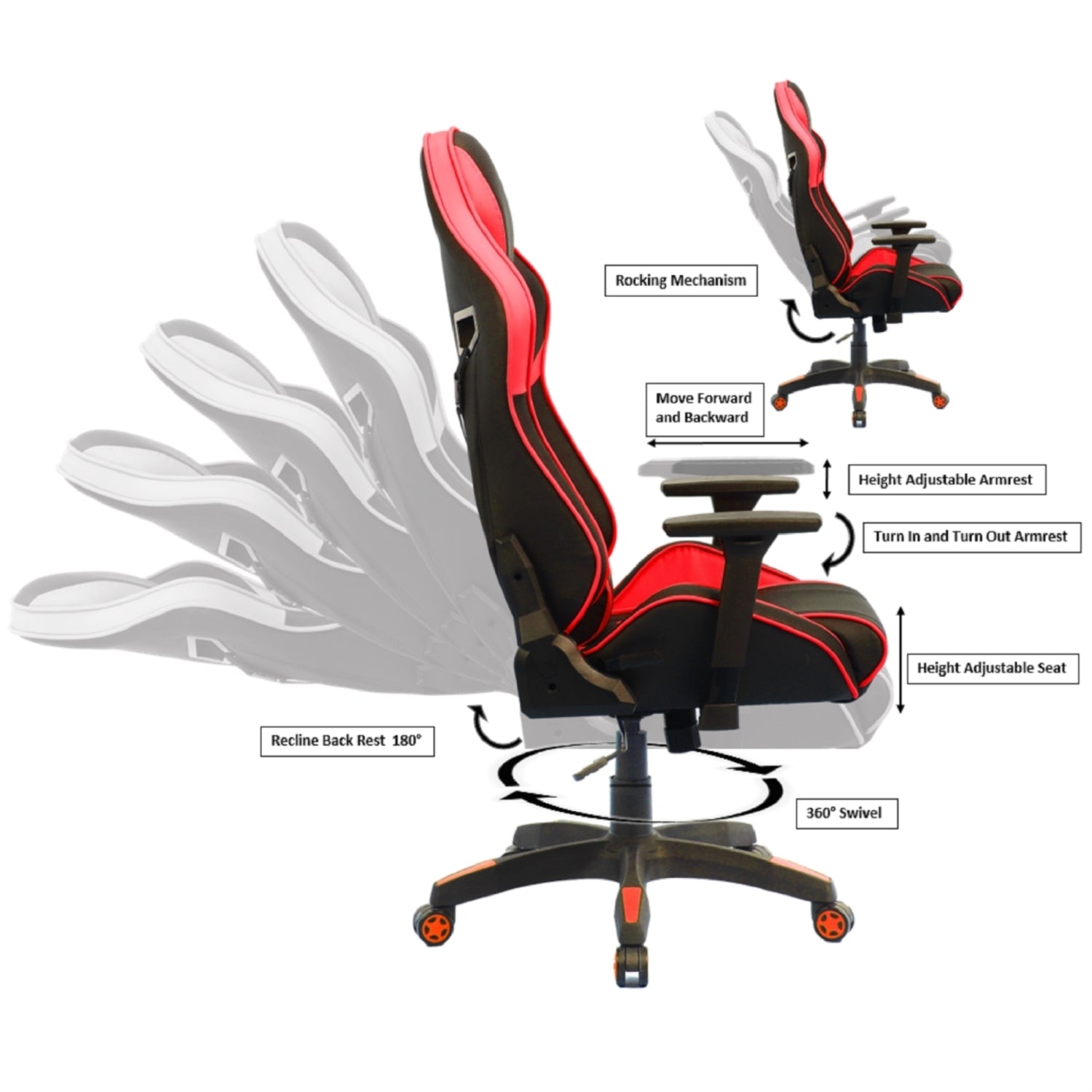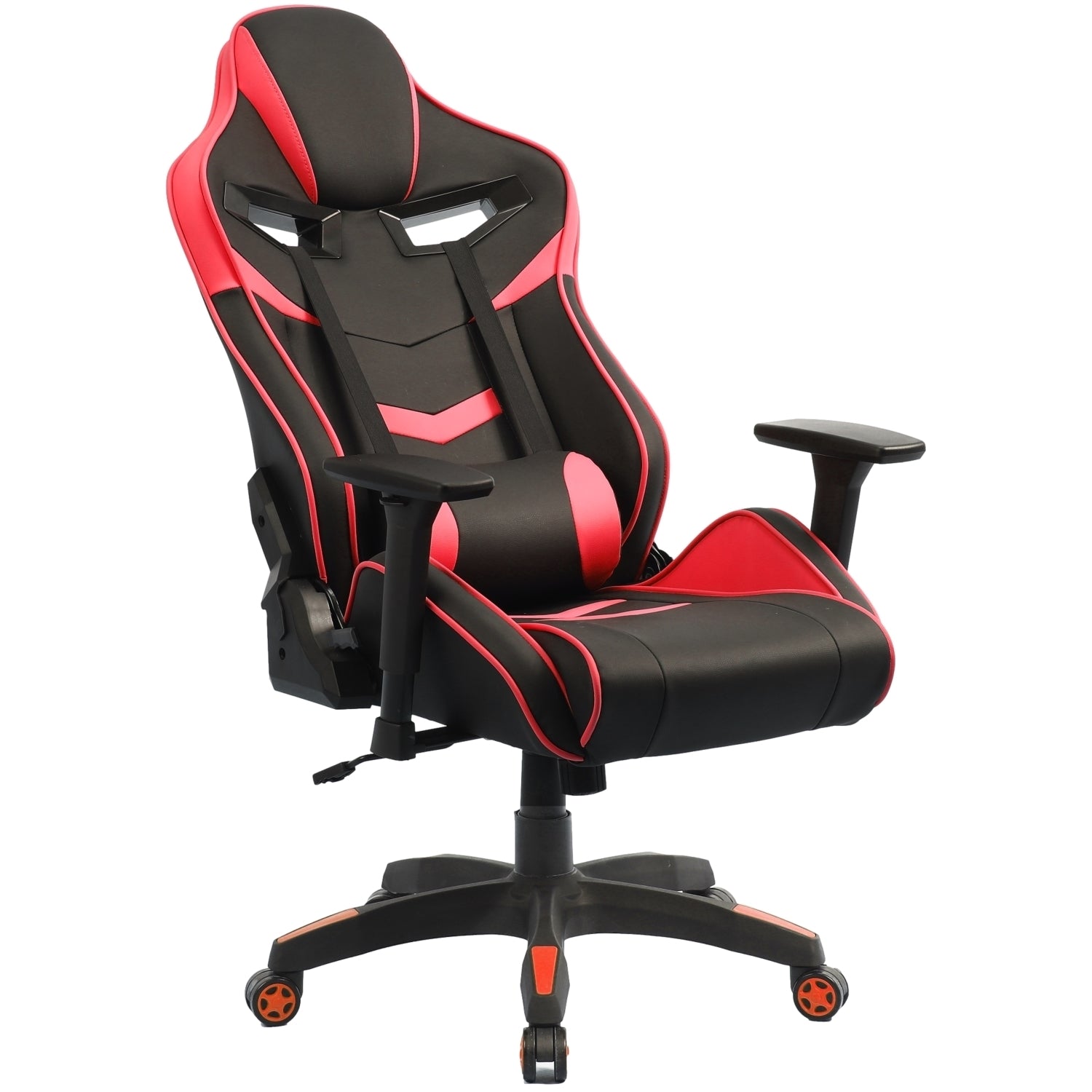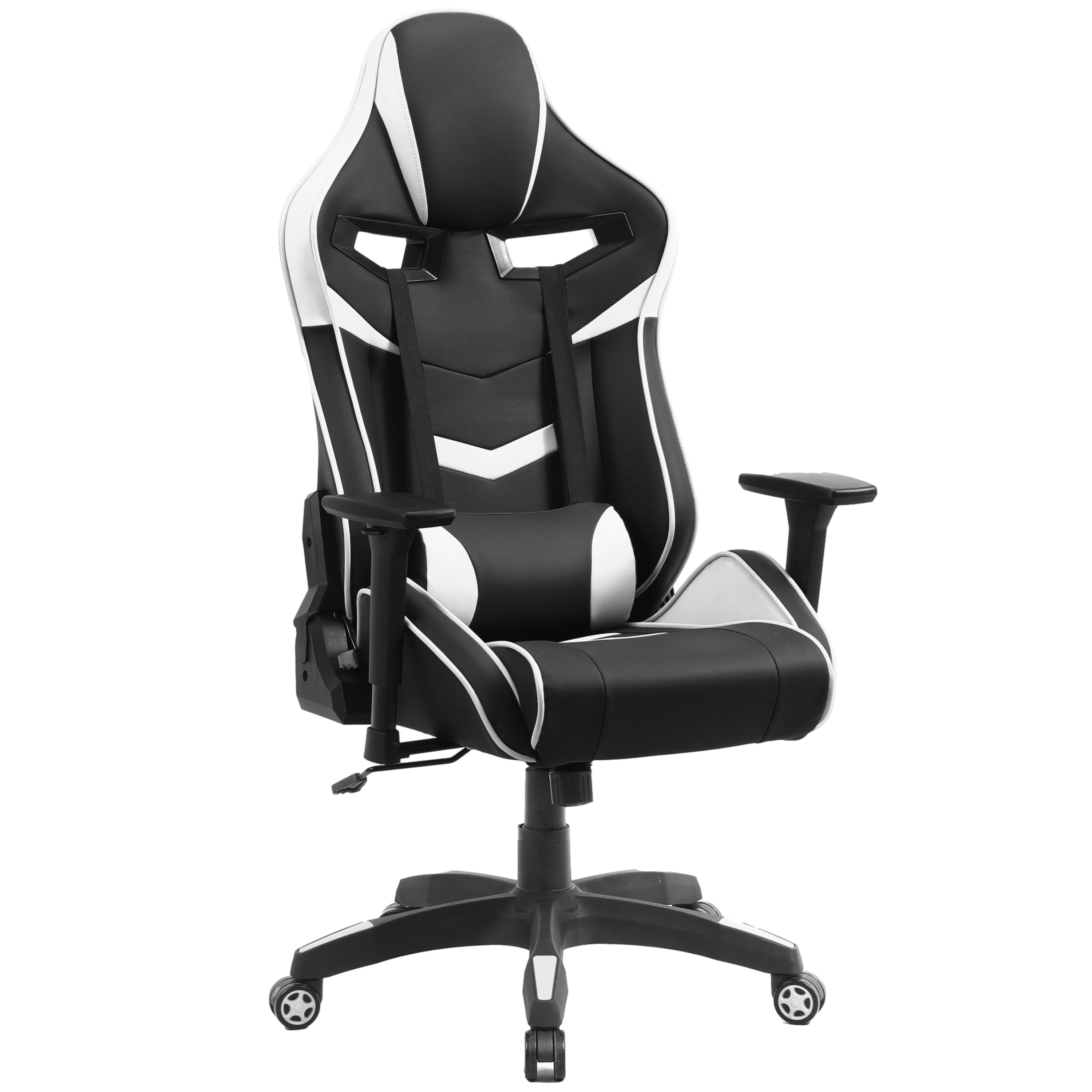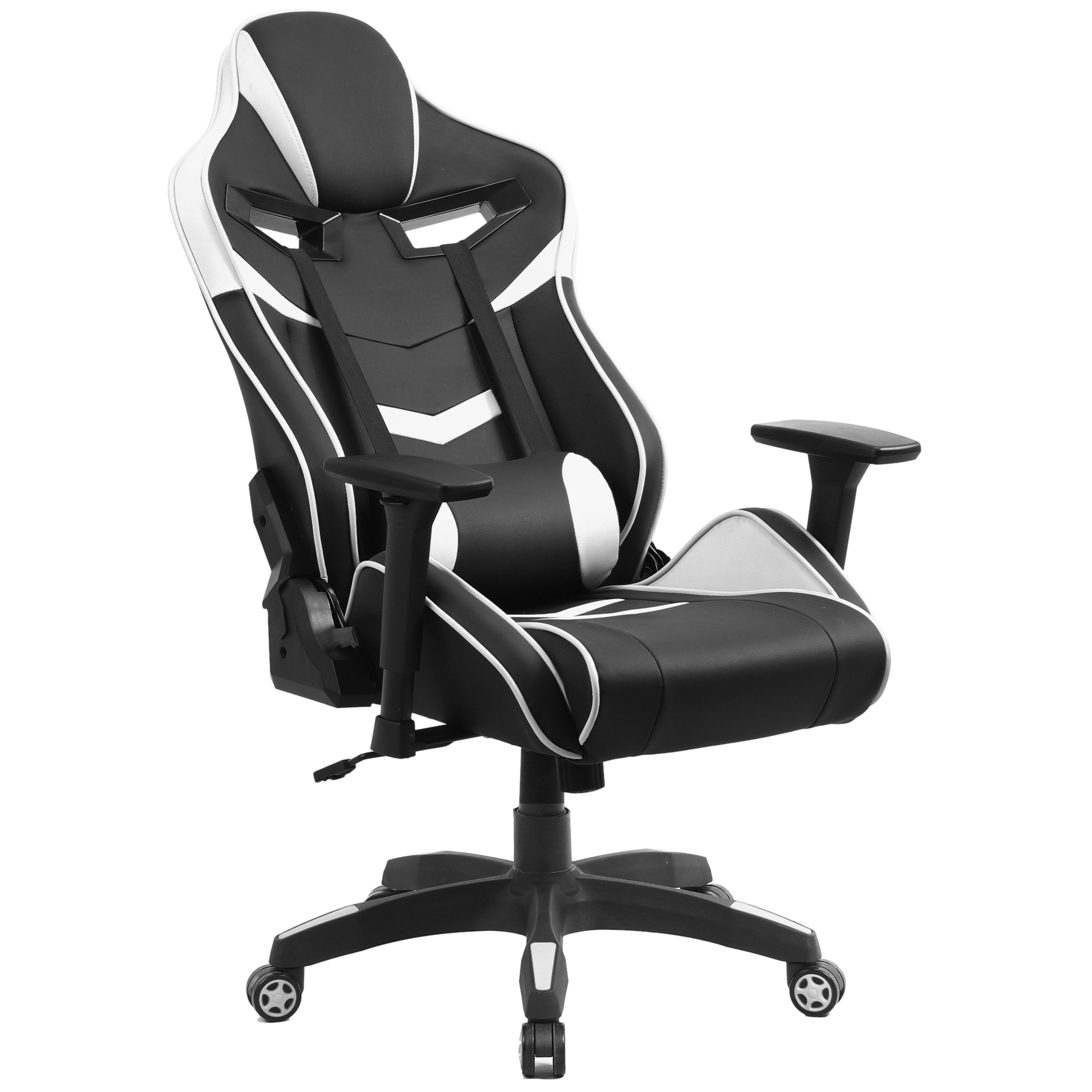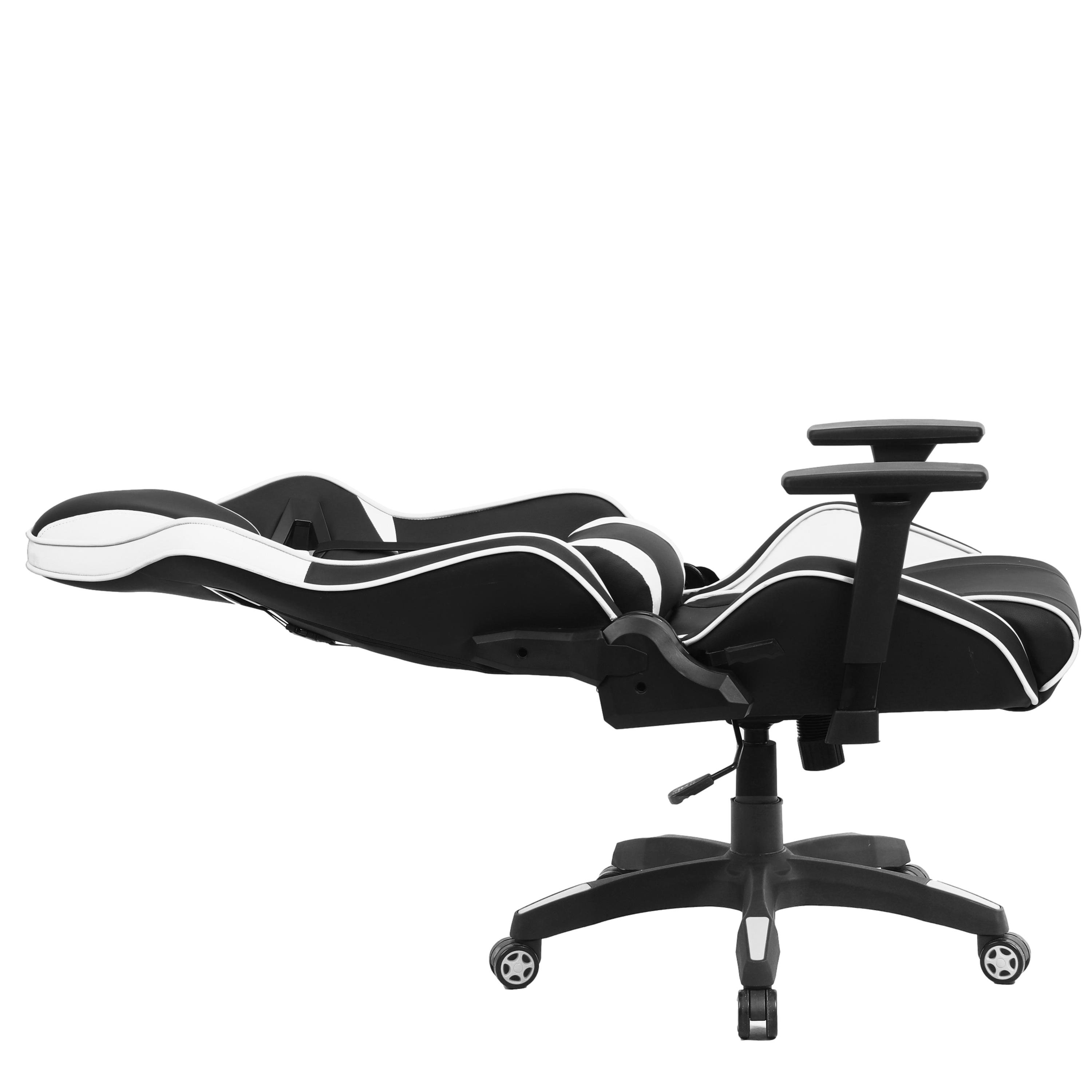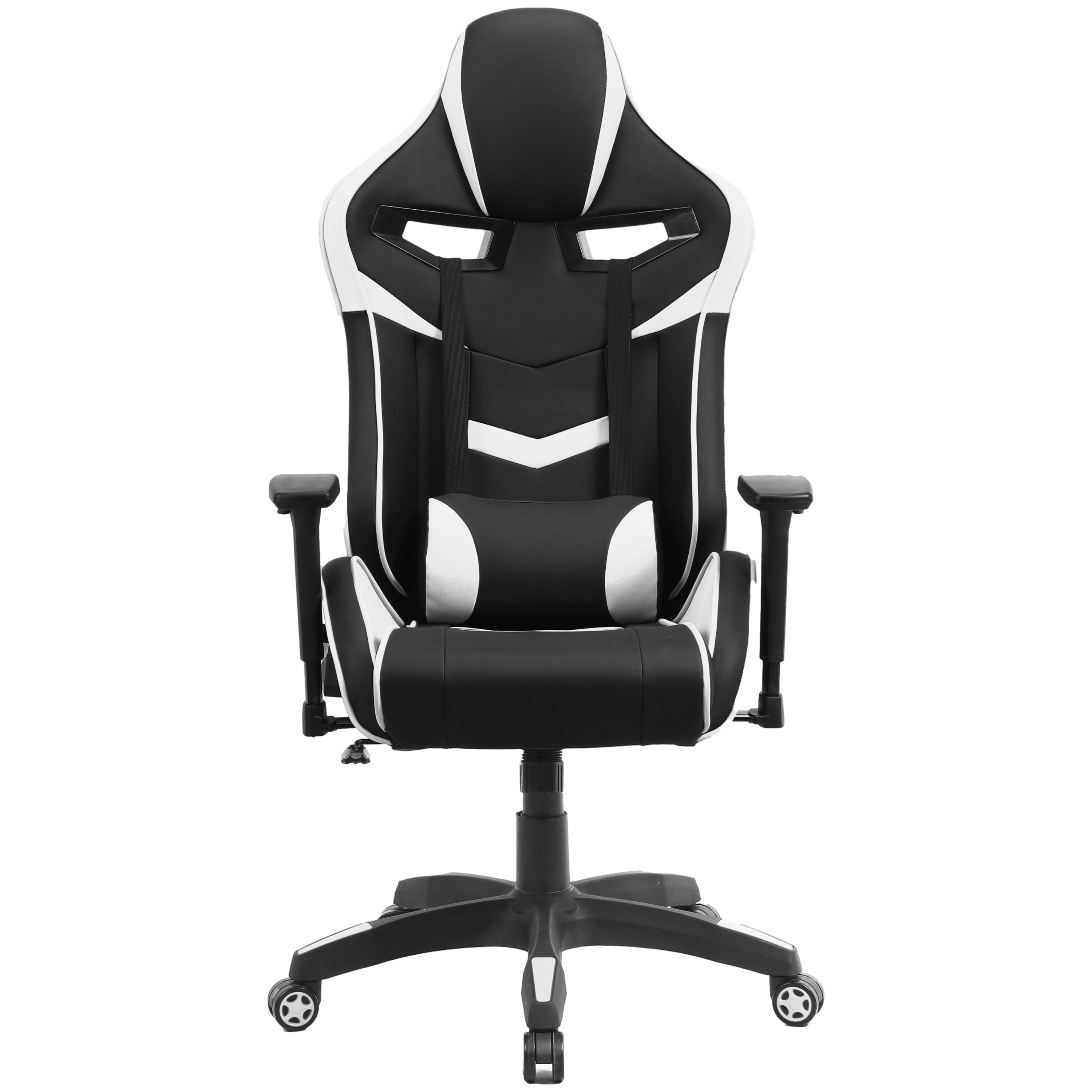 The ergonomic premium designed gaming chair is built for endurance to provide you long lasting comfort. It will help in maintaining a healthier posture so that you can sit comfortably for long hours. The chair is constructed with premium quality frame structure covered with molded high-density foam. Soft PU leather upholstery, sturdy metal base, and adjustable armrests and the aggressive design will make this chair, your favorite place to work, game or relax.


Design: Ergonomic high back and wide backrest adds more comfort and relief, suitable for long hours of gaming, reading, studying, and working.

Material: High-quality PU leather upholstery, 350 mm heavy-duty nylon base and castors and a heavy-duty gas lift for seat height adjustments.

Multi-features: Double butterfly mechanism, thick padded removable and adjustable lumbar support, Integrated headrest pillow, reclining feature allows you to set a backrest angle between 90 - 150 degree, adjustable armrests, 360 degree swivel and, tension control knob to adjust the rocking functionality

Movement & Swivel - Durable scratch-resistant and smooth-rolling five nylon castors for easy movement on the floor, 360-degree swivel for your ease

Assembly : Easy to assemble and a detailed instruction manual and the necessary tools for quick set-up, it supports 280 lbs
1) Easy Movement Durable scratch resistant and smooth rolling five nylon castors for easy movement on the floor.
2) Material Backrest, seat, and cushions padded with dense foam and wrapped in a Soft PU leather and Mesh material. This chair is constructed with high quality frame structure, heavy duty gas lift with high grade base.
3) 4D Adjustable Arms 4D Armrests allow you to adjust the arms by height (up down), width (left right), vertical (forward backward) position, and sideways (In out) positions.
4) Support Sturdy and durable solid base added more support and stability for long hours of sitting. The chair comes with the hydraulic gas lift cylinder so that you can adjust the height up to 3 Inches.
5) Quality The gaming chair is constructed with high quality materials and perfect backrest curves that provide strong spinal support and make you more relaxed.
6) Usage The multi purpose gaming chair is perfect for home office, office, gaming, gaming bar, and studying.
7) Swivel & Reclining 360 degree swivel, and the backrest can be reclined and locked at any angle between 90 150 degrees for gaming, relaxing, working, and studying.
8) Rocking: Premium office chair seat tilt and rocking mechanism for increased adjustability.
9) Padded Cushions Extra padded dense foam integrated headrest pillow and adjustable lumbar support cushions are perfect for relaxing your head and lower back.
Maximum Weight Capacity: 280 lbs.

Assembly:
1) Our gaming chairs are easy to assemble.
2) Tools and Hardware pack is already included in the box.
3) Please catch all screws, then tighten them gradually and simultaneously.
Good to know:
1) We try to depict images accurately, however the actual color of the item may slightly differ from the images due to photographic limitations and/or user screen configuration.
2) Please use a lightly damp cloth to clean.
3) Please use water resistant lubricants when needed.
4) For detailed dimensions please refer the images.
5) For further details, please contact us.
Limited Warranty
What is covered?
1. This limited warranty covers defects in materials and workmanship in this product by default.
2. If a product by default is defective, it has to be reported within 15 days of receiving and the required part(s) can be shipped to the customer if and when available.
What is not covered?
This limited warranty does not cover any damage caused by the owner modifying, attempting to fix, or otherwise altering the product.
This limited warranty excludes warranties from certain parts, such as the screws and bolts.
This also does not warrant that product would not become obsolete or out of stock at some point in the future and part and full product replacement will not be possible.
Warranty does not cover shipping charges to replace the parts.
Warranty voids if the damage was done due to incorrect assembly procedure (including extra tightening the screw that it loses thread)
Purchase of ViscoLogic product from an unauthorized dealer
How long does this coverage last?
This warranty lasts for 360 days from the date of original purchase of this product.
Who is covered?
This limited warranty covers only the original purchaser of the product. The limited warranty is not transferable to subsequent owners or purchasers of this product.