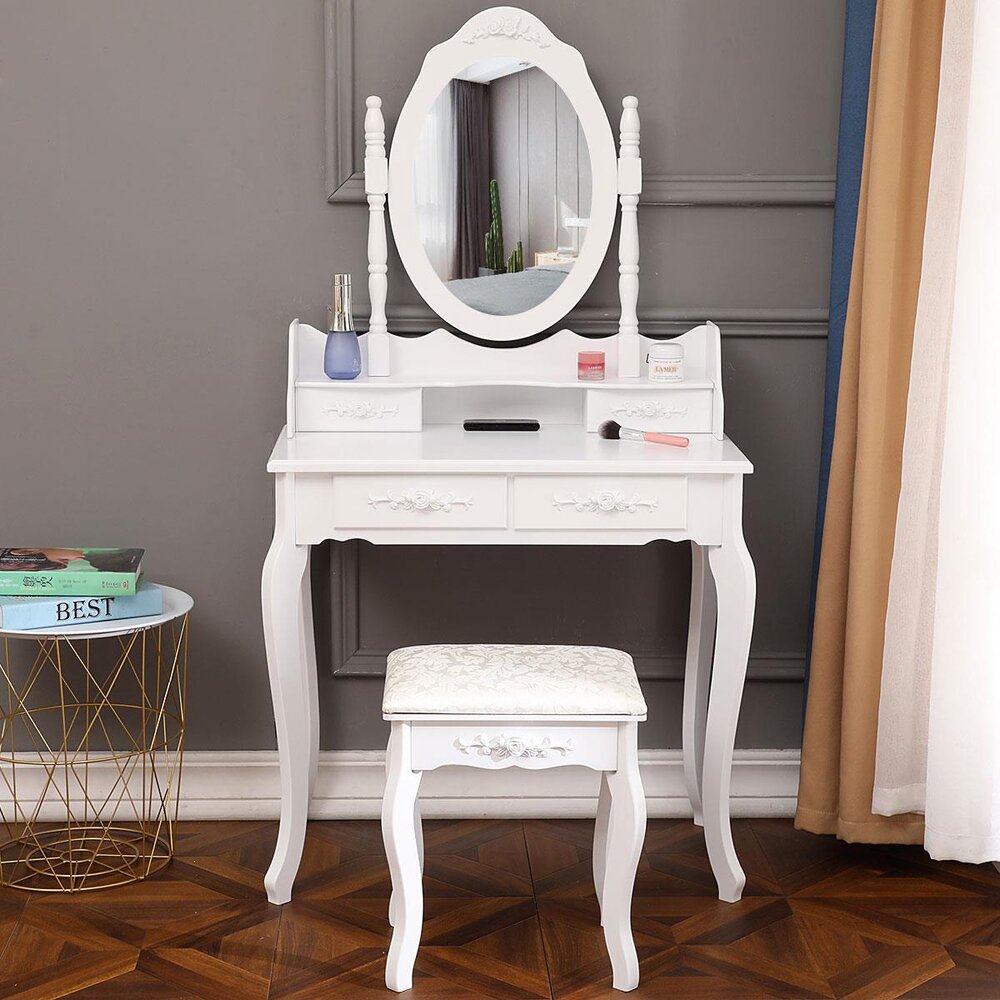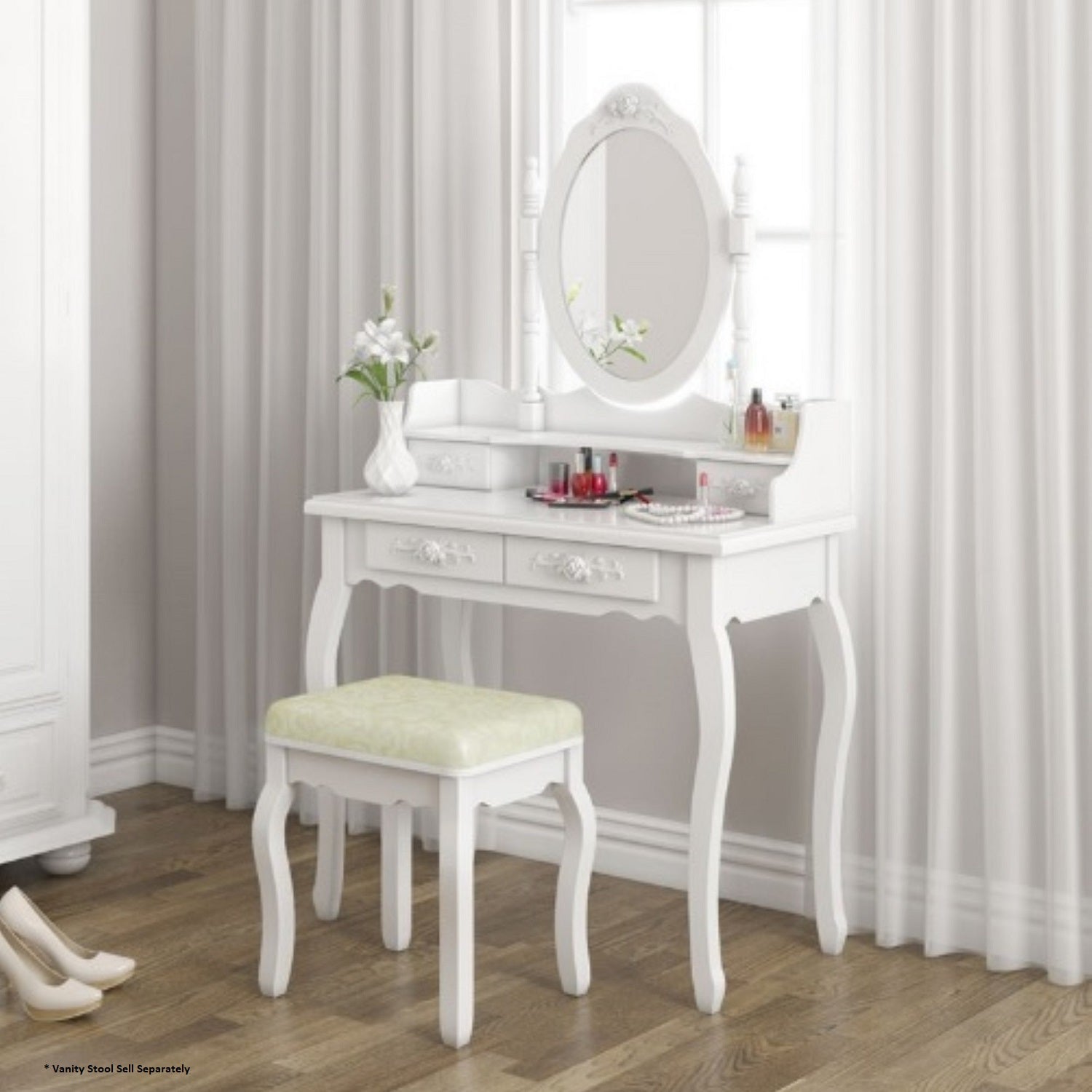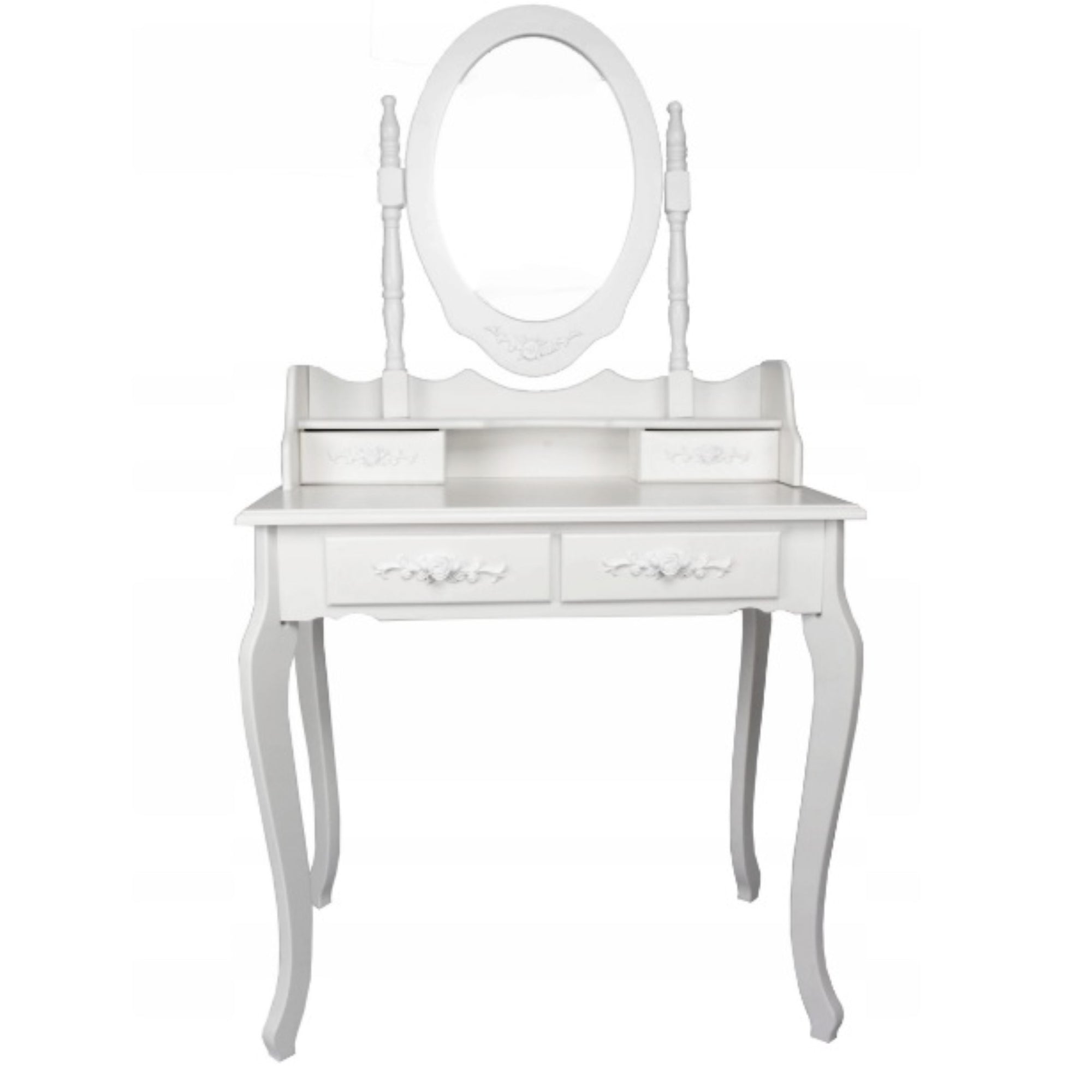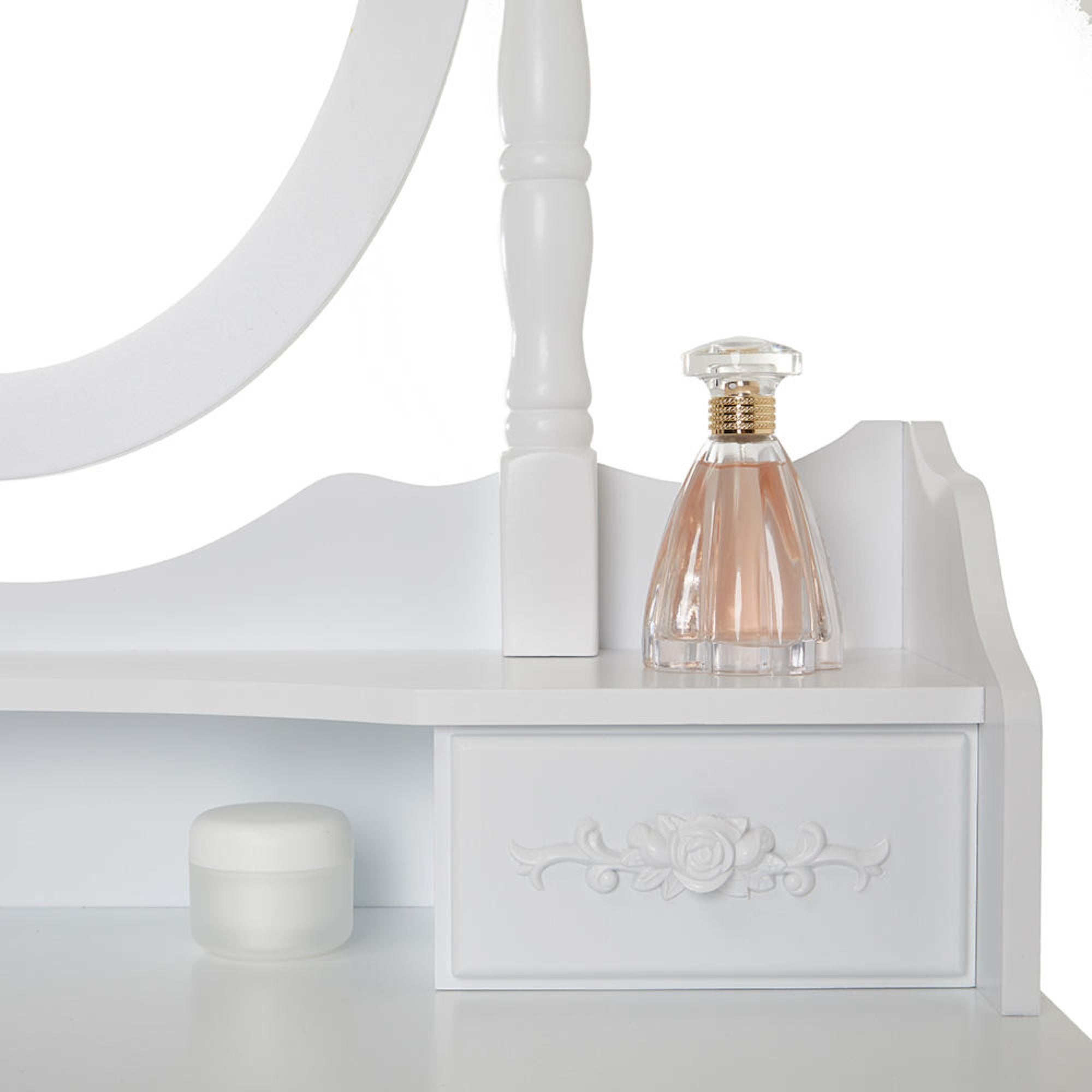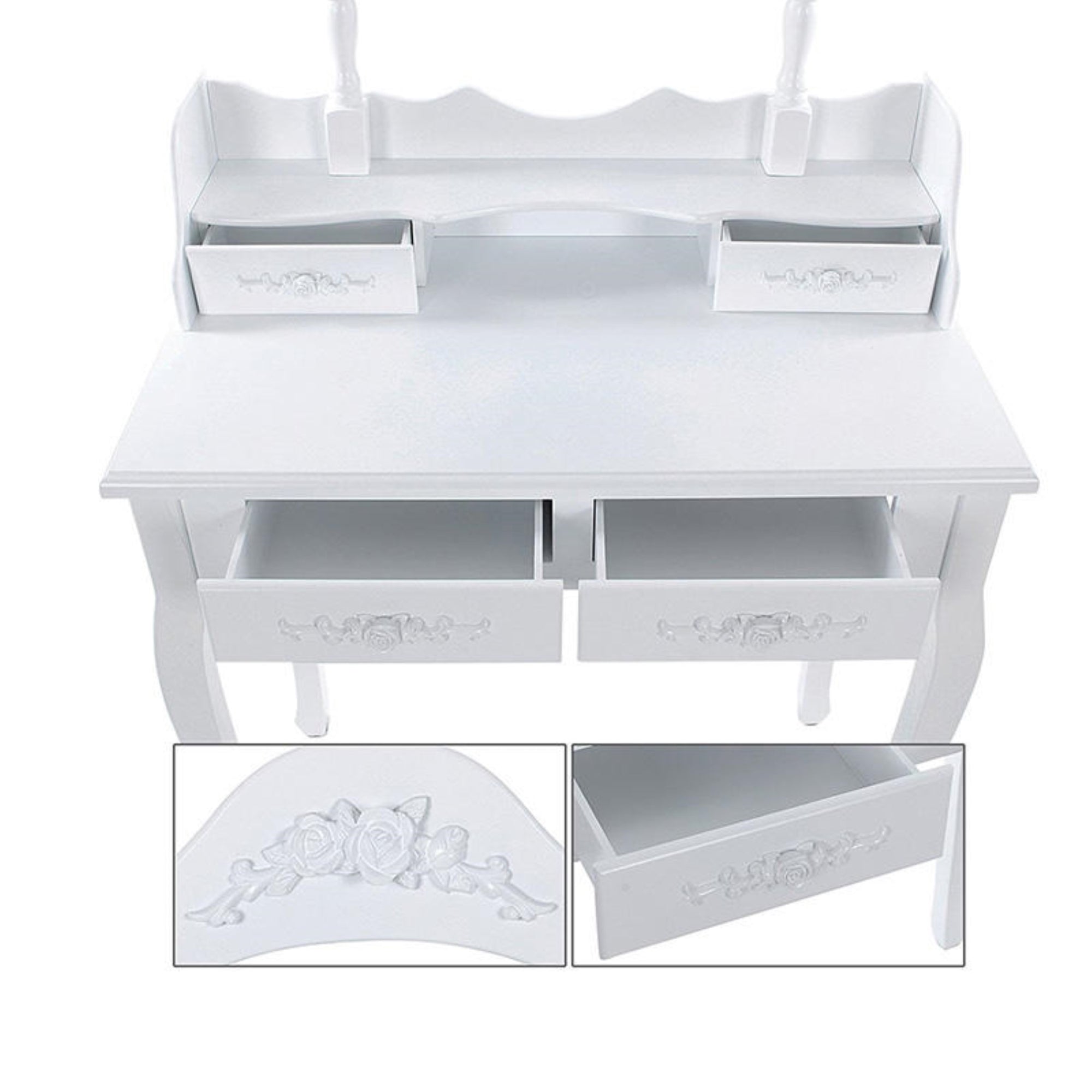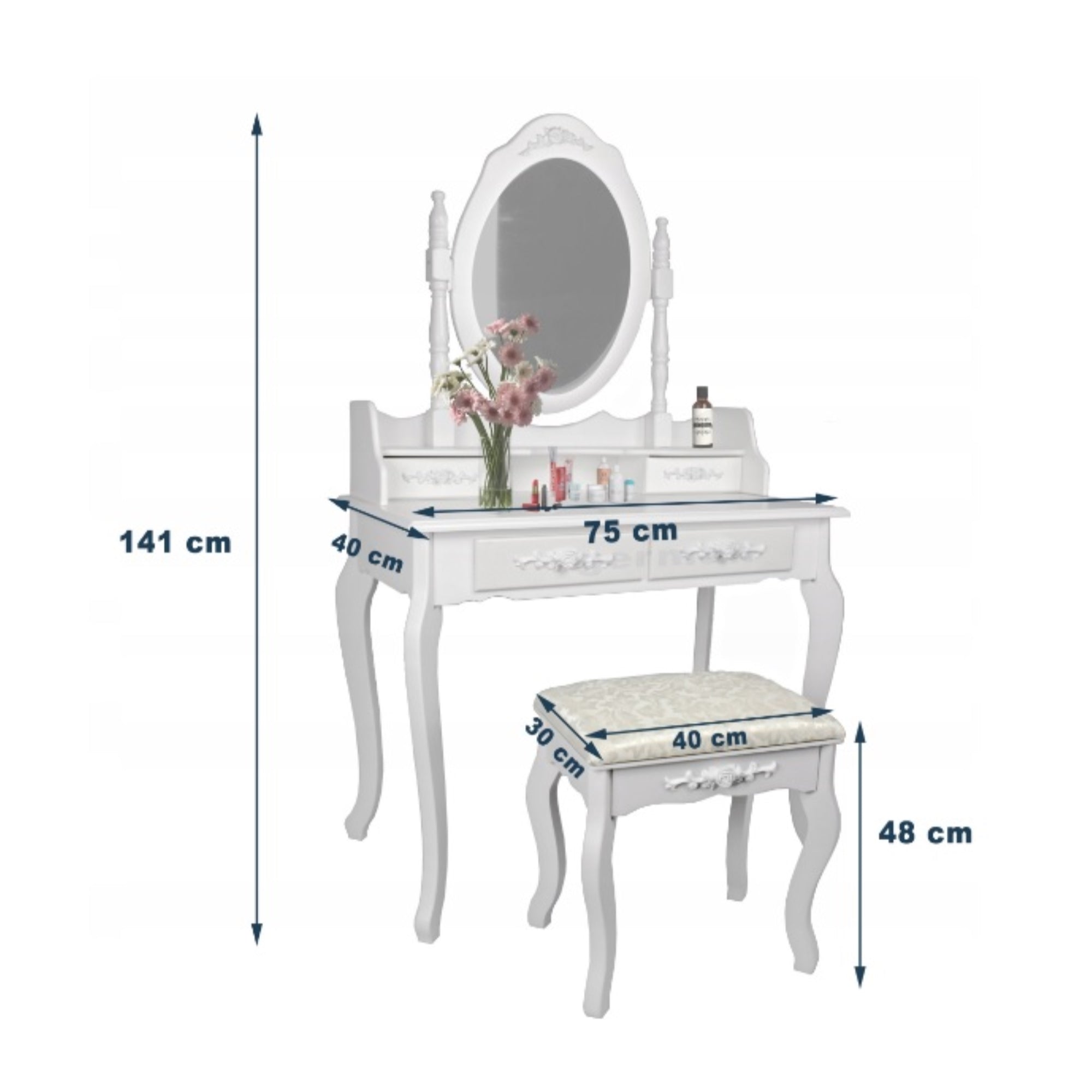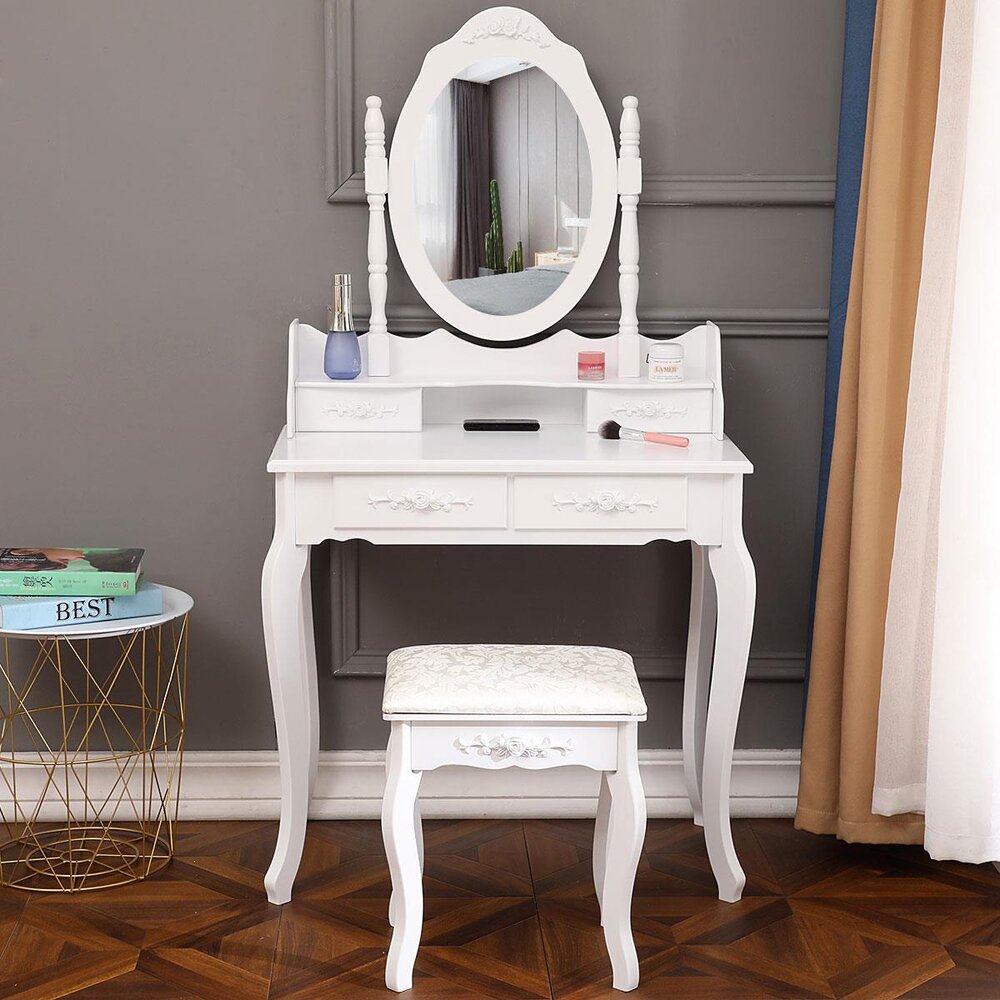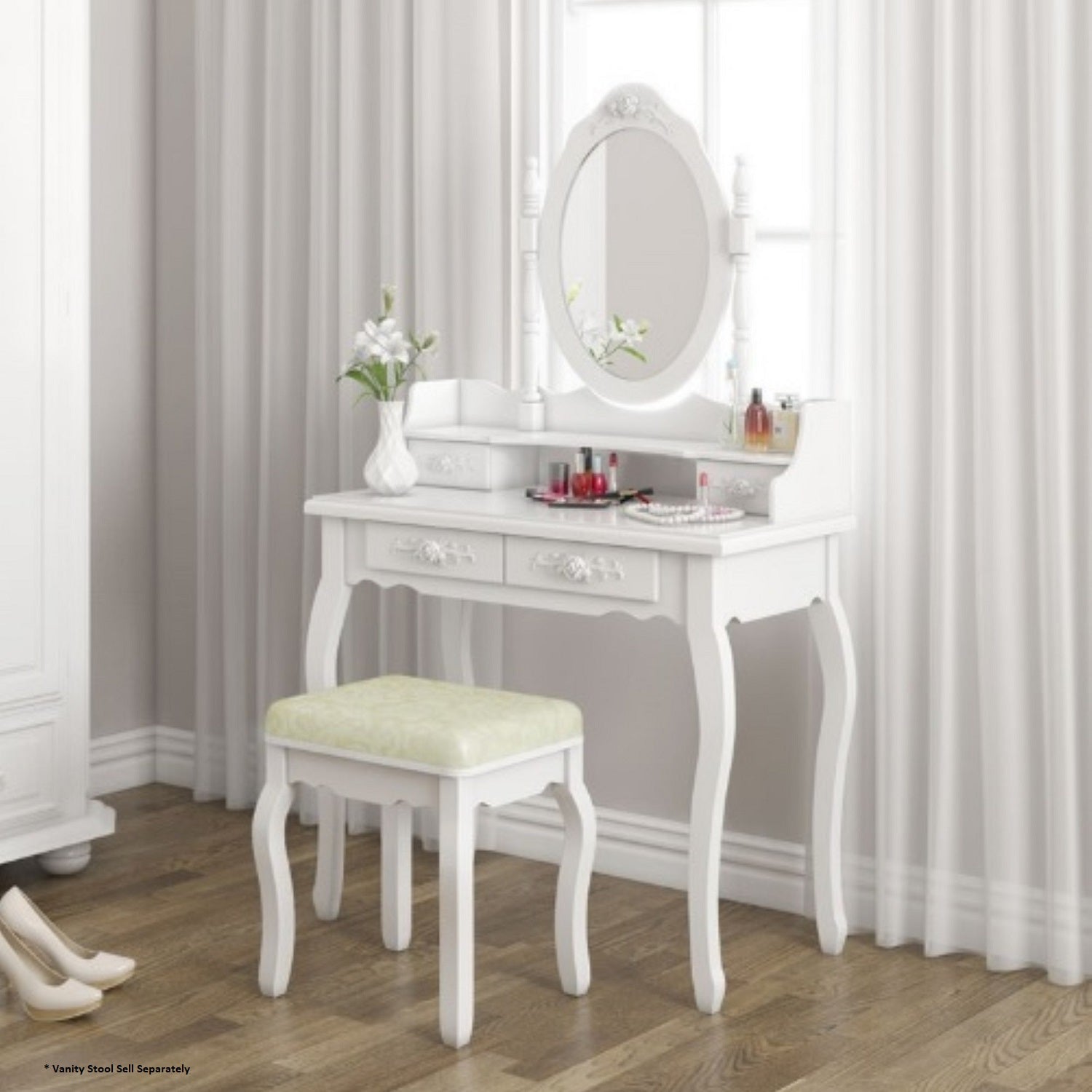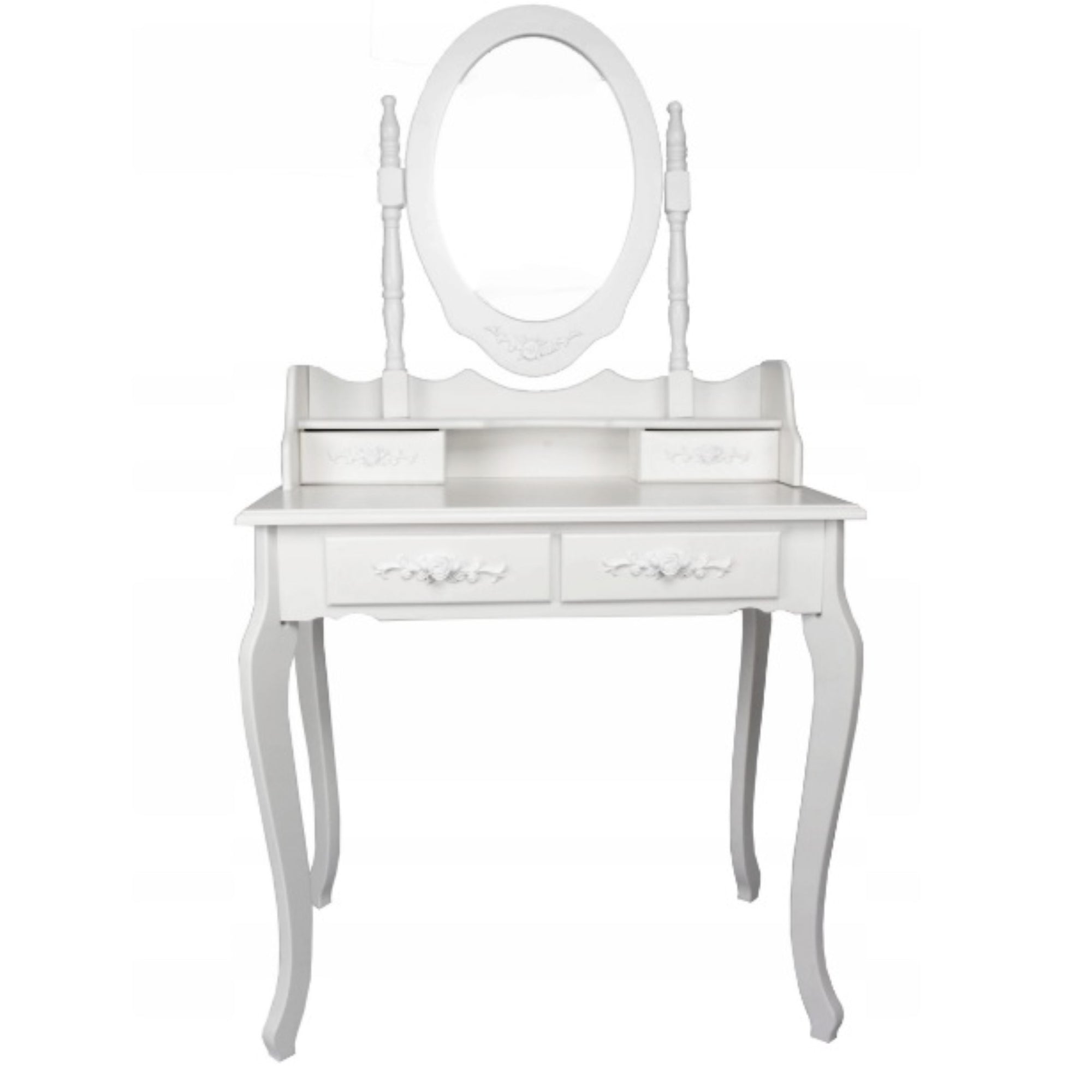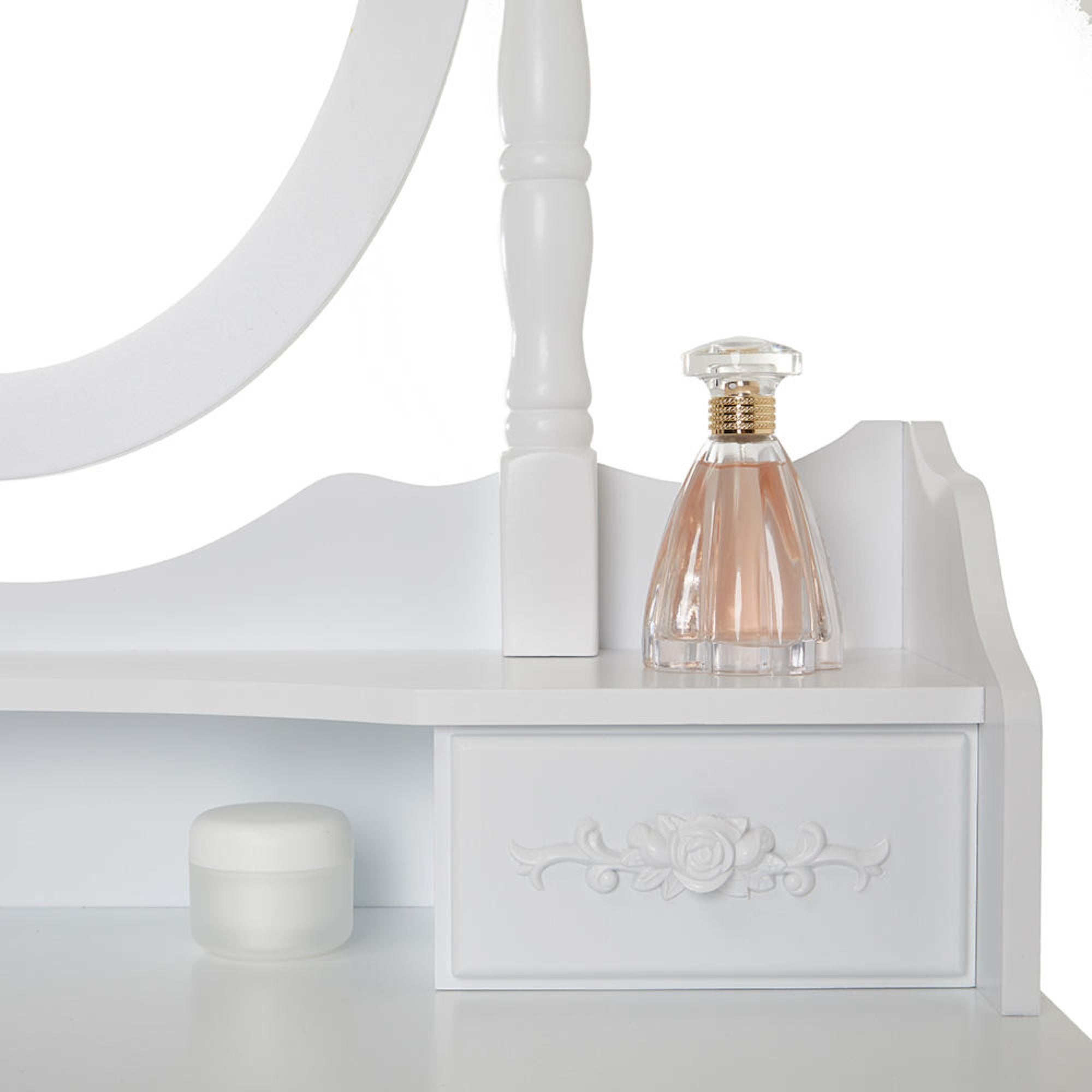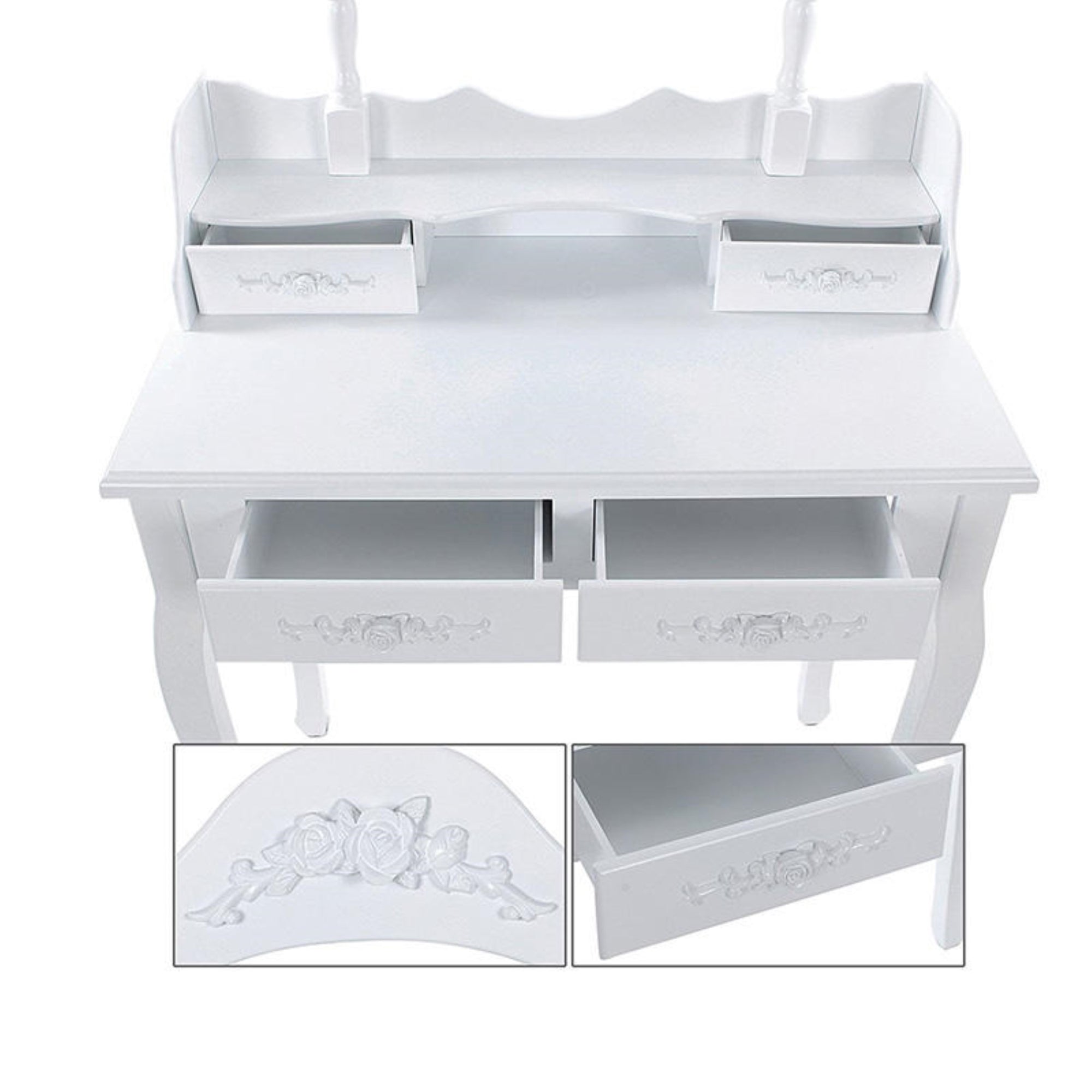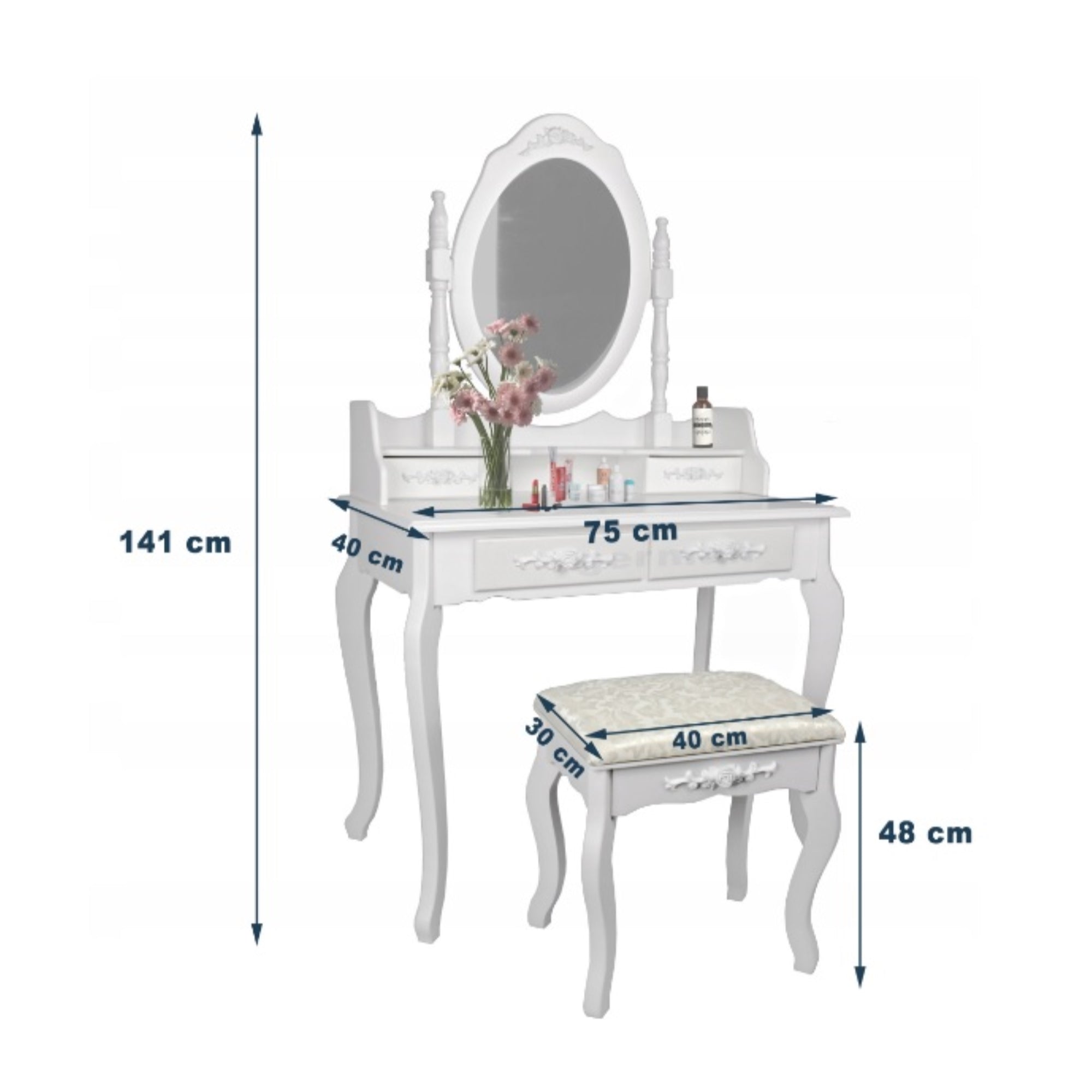 Makeup Vanity comes with a swivel adjustable mirror and drawers accented with beautiful flower carvings. It's perfect for storing all of your jewelry and the smooth table top provides the perfect space for cosmetic and beauty supplies.


Contemporary Design: This design saves space so it can fit into any modern compact home.

Two Drawers gives you enough storage for your make-up and jewelry storage space

Antique look Vanity: if you are looking for a vanity set with an antique look This is the perfect one for you. The elegant vanity will fit right in with your antique furniture.

The affordable vanity is made with Medium Density Fibreboard creating a product that is long lasting

Vanity Stool Sold Separately. The table can be used as a study/office or console table.

Features:
Stylish and contemporary White finish
Mirror Frame: Oval
Stoarge Drawers: Four drawers all with embellished with beautiful flower accents
Vanity Stool Sold Separately
Color: White

Overall Dimensions (Inches):
Length: 29.52"
Width: 15.74"
Height: 57.08"

Drawers Size:
Length: 10.62"
Width: 8.85
Height: 2.3"

Assembly:
Some easy assembly is required
Assembly instruction included

Limited Warranty
What is covered?
1. This limited warranty covers defects in materials and workmanship in this product by default.
2. If a product by default is defective, it has to be reported within 15 days of receiving and the required part(s) can be shipped to the customer if and when available.
What is not covered?
This limited warranty does not cover any damage caused by the owner modifying, attempting to fix, or otherwise altering the product.
This limited warranty excludes warranties from certain parts, such as the screws and bolts.
This also does not warrant that product would not become obsolete or out of stock at some point in the future and part and full product replacement will not be possible.
Warranty does not cover shipping charges to replace the parts.
Warranty voids if the damage was done due to incorrect assembly procedure (including extra tightening the screw that it loses thread)
Purchase of ViscoLogic product from an unauthorized dealer
How long does this coverage last?
This warranty lasts for 360 days from the date of original purchase of this product.
Who is covered?
This limited warranty covers only the original purchaser of the product. The limited warranty is not transferable to subsequent owners or purchasers of this product.